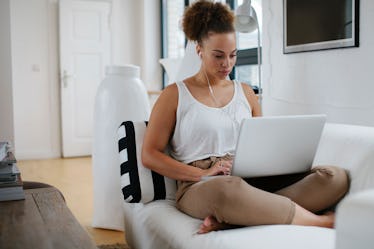 Here's How You Can Actually Maintain A Healthy Work-Life Balance, According To Experts
Balance has become such a trendy phrase across the health and wellness space over the last few years that I sometimes catch myself wondering if millennials should consider copyrighting the term. But if you really stop to think about all the everyday demands #adulting thrusts upon you — from pressing deadlines at work, to pages-long class assignments, making time for your loved ones, let alone making time to breathe — couldn't you benefit from figuring out ways to improve work-life balance? Couldn't everyone?
Merriam-Webster's online dictionary defines "balance" as a "mental and emotional steadiness" that comes from the "stability produced by even distribution of weight on each side of the vertical axis." So imagine your life is a seesaw on the playground. On one end, you have your job. On the other, your personal life: the time you spend on friends, family, and yourself. It's not always easy to put equal amounts of weight on both ends of the beam, and when one takes precedence, the other tends to suffer — sometimes in ways you don't even realize.
"Too much of something gets monotonous, which can leave us feeling disengaged, disconnected, unfulfilled, and just rather lopsided," Erika Martinez, Psy.D., CDWF, licensed psychologist and founder of Miami Shrinks, tells Elite Daily. "In turn, feeling like this, if left unchecked, can turn into disease, whether physical disease (e.g. upset stomach, indigestion, headaches/migraines, high blood pressure, etc.) or emotional ones (e.g. panic attacks, anxiety, depression)."
Of course, there's nothing wrong with putting in a little extra time at the office if you're striving toward a promotion, or taking on extra credit assignments to boost your grade. That being said, though, it's important to make time for yourself and your needs in order to feel satisfied across all aspects of life. You can do this through establishing balance, and to help you along, I reached out to a few experts to share their best tips, so you can improve your own work-life balance ASAP.