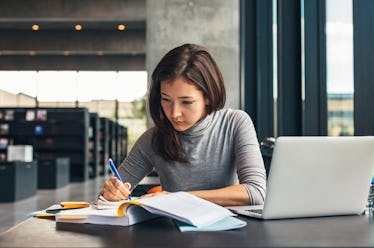 If You're A College Student, You Absolutely Need One Of These Amazing Planners
For most people, college means total and complete autonomy over their time and choices. There's no one telling you what to do or how to manage your responsibilities. Yeah, the freedom is awesome, but the best planners for college students help you to utilize that freedom so you can get the most out of your experience — academically, socially, and personally.
Maybe you made it all the way through middle and high school without an agenda, or maybe you used one religiously. Either way, college planners are a whole different ball-game.
Up until 18, you likely had to keep track of your homework assignments. Everything else was scheduled for you by adults and automated bells. Now, you're solely responsible for juggling your classes, assignments, social engagements, club meetings, and probably your laundry schedule, too. You'll need a planner that can keep up, so look for spacious layouts, daily and weekly pages, and an academic format — that means it spans from at least September to June.
After that, picking the perfect planner for you is all about preference. There are loads of different styles, formats, and features; it all just comes down to your personality and organizational habits. Here are six of the best options for any college student, whether you're a minimalist, a goal-setter, or a creative.