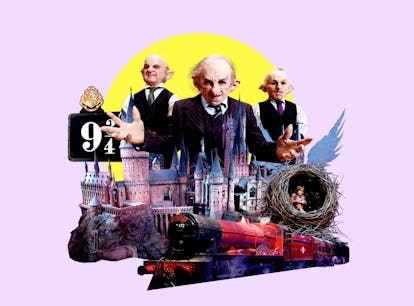 15 Harry Potter Events And Experiences To Feel Like You're In The Wizarding World
I need a Butterbeer ASAP.
Mike Marsland/John Phillips/Jeff Spicer/SOPA Images
After watching the Harry Potter 20th Anniversary: Return to Hogwarts special on HBO Max, you're ready to revisit the Wizarding World once more. Whether you've read all the books, saw every movie in the theater opening night, or are a new Potterhead, there's no denying Harry Potter's influence. You may even still be patiently waiting for your acceptance letter to the Hogwarts School of Witchcraft and Wizardry. Until your owl arrives, you can check out these 15 Harry Potter events and experiences around the globe.
Since we first said hello to Harry, Ron, and Hermione in theaters 20 years ago, the world of Harry Potter has expanded in so many ways. Of course, Harry Potter's Hogwarts is a fictional place where wizards go to take classes in magical courses like Herbology and Transfiguration, but there is a Hogwarts castle at Universal Studios you can visit IRL. You could even get a Butterbeer from the Harry Potter New York store, or stop by the Great Hall to get sorted in Burbank, California.
Plus, there are plenty of Harry Potter bars and pop ups all over the country as well as across the pond. However, if you aren't planning on visiting London anytime soon, there are also plenty of Harry Potter virtual experiences so that you can experience the magic from your own home.
So, if you're looking to "Wingardium Leviosa" the wizarding world into your everyday life, here are some of the best Harry Potter events and experiences to check out for yourself.
The CDC recommends traveling only after you're fully vaccinated and your vaccine has become fully effective. If you're not fully vaccinated and must travel, check the CDC guidelines before you book. Check your destination's vaccination and testing requirements before you depart.