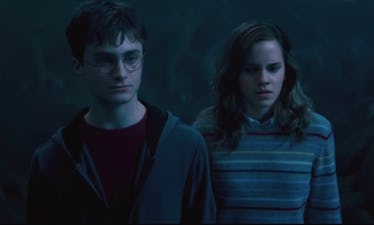 The Wizarding World Of Harry Potter's Newest Roller Coaster Takes You To The Forbidden Forest
Warner Brothers
As a serial "wanderluster," there are several destinations on my travel bucket list. For the last eight years, however, The Wizarding World of Harry Potter in Orlando, Florida, has pretty much dominated the top. I want nothing more than to throw back endless pints of Butterbeer, pick out my magic wand, and most importantly, try out any and all of the enchanting rides the park has to offer. And if you weren't already completely sold on going there, this new Wizarding World of Harry Potter coaster at Universal Studios will probably end up changing your mind. If you ask me, it sounds straight-up magical.
There's a sick new ride coming to The Wizarding World of Harry Potter, according to a press release, and as of 2019, it'll be open to both magic folk and muggles alike. Per Pottermore, the new ride is going to replace the now-defunct Dragon Challenge attraction in the Hogsmeade section of the park, which closed back in September 2017... and based on a sketch of the ride sent by Universal Studios, it looks so. Freakin'. Sweet. It'll reportedly allow guests to get in on an "all-new adventure," per Pottermore, so it goes without saying that I really hope to see some real live dragons, or at least a three-headed dog. I need more of both of those in my life, TBH.
Supposedly, this glorious new roller coaster will be guiding guests through the ever-mysterious Forbidden Forest, before going underneath the Hogwarts castle, according to Universal Studios' sketch. While a glimpse of the Forbidden Forest sounds positively amazing, I really can't help but hope it'll successfully avoid Aragog, by all means possible. If you know me at all, I have crippling arachnophobia, and I really can't handle anything involving spiders... even if Argog was — in fact — raised by good ol' Hagrid. Like Ron Weasley, I, too, would much rather "follow the butterflies" whenever possible.
If you take a look at Universal Studios' sketch, you'll also notice three bright blue Cornish pixies in the bottom righthand corner. If you recall, according to Hypable, those small, shrill practical jokesters were originally introduced in Harry Potter And The Chamber Of Secrets by Professor Gilderoy Lockhart. So, you can most likely expect to encounter some mischief along the way. My wand is ready, and my (temporary tattoo) forehead scar is burning like mad.
Unfortunately, this fantastic new ride won't be managing your mischief until next year. But on the bright side, the park recently started selling Butterbeer ice cream year-round. It's offered at any of the carts in Hogsmeade, as well as at The Three Broomsticks, so needless to say, I'll be snacking on some until the ride opens.
As a muggle, I'm always trying to explore more of the Wizarding World of Harry Potter. It sounds like the park's latest and greatest ride is uncovering things that no muggle has seen before, and honestly, I'm counting down the days until the ride opens... while also hoping to avoid spiders, at any and all costs. Until then, though, I'll be enjoying everything else the park has to offer. Accio Butterbeer!