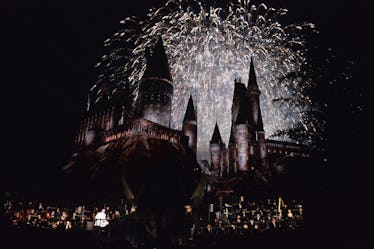 Butterbeer Ice Cream Now Exists, So Muggles Can Celebrate
Matt Winkelmeyer/Getty Images Entertainment/Getty Images
While I'm waiting for my invite letter to Hogwarts to arrive, I can still raise a glass, or rather a cone, like the wizarding community in the meantime. That's right, Butterbeer Ice Cream now exists at the Wizarding World Of Harry Potter at Universal Studios Hollywood, and it's the sweet treat that both Muggles and Wizards alike can enjoy this summer. Apparently the concoction tastes like a dreamy mix between butterscotch and shortbread, and it's truly a magical time to be alive.
Get ready to book your flight, because the popular beverage from the imaginings of J.K. Rowling's Harry Potter series has now been made into your new go-to theme park treat, and your trips to Hogsmeade are about to get even better. According to a Universal Studios press release shared on June 28, you can now make like Harry, Hermione, and Ron and pick up some Butterbeer ice cream scoops at any of the carts at Hogsmeade or while grabbing lunch at the Three Broomsticks (which, if you remember, is where Harry Potter himself tried the beverage for the very first time). The icing on the cone? The treat is now a permanent fixture at the park, so you can satisfy your Butterbeer cravings all year long.
While it's not the first time that the wizards behind the Harry Potter theme parks have tried their hand at recreating Butterbeer IRL, it's arguably the most delicious. The Universal Studios park in Orlando, Florida now offers Butterbeer soft serve, but let's be honest, soft serve is never going to be as good as some scoops of the real stuff.
In addition, Hollywood's Wizarding World of Harry Potter's new confection joins several Butterbeer sips (available in traditional, frozen and hot beverages), as well as sweet concoctions like Butterbeer Potted Cream and Butterbeer Fudge, according to the press release. It's so easy to satisfy your sweet tooth and Harry Potter fandom in a few sugar-laced treats.
Luckily for us, Universal Studios realized that there's no such thing as too much Butterbeer, and they're gifting us the ultimate summertime snack with a dose of culinary magic, i.e. "the rich palate-pleasing Butterbeer-flavoured hard pack ice cream." It's the same signature flavor minus the Butterbeer foam mustache, and I'll cheers to that.
It's not surprising that literally everyone is still trying to jump on the Butterbeer train. Since the world first learned about the delectable beverage in Harry Potter and the Prisoner of Azkaban, the refreshment has gained a serious cult following. After the success of its limited-edition color-changing Unicorn Frappuccino last April, Starbucks is continuing to cater to Potterheads by offering a Frappuccino and Latte inspired by Butterbeer on its secret menu. What better way to curl up with a book and pretend you're studying in the Great Hall than with one of these cozy beverages in hand? Butterbeer Golden Snitch Donuts were even a thing at one point last fall, which proves that the HP fandom isn't going anywhere anytime soon.
If you can't squeeze in a trip to Universal Studios, you can still get your Butterbeer Ice Cream fix in carton form without planning a visit to Hogsmeade. Pennsylvania's Yuengling Ice Cream offers a Butterbeer flavor, which is basically butter cream and butterscotch ice cream with a butterscotch swirl, according to its website. The best part is that you can skip the Floo Powder and the "Accio" spells, and simply head to a local supermarket to purchase the ice cream, which retails for less than $4. Whether you make the trek to the Wizarding World of Harry Potter or choose to enjoy the comforts of Butterbeer in your own home, Butterbeer Ice Cream is sure to make your summer pretty magical.