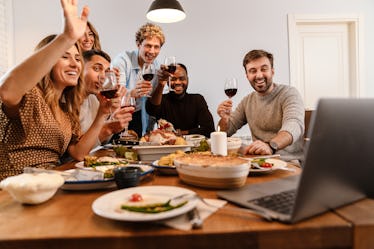 12 Traditions To Start With Your Friends This Friendsgiving And Continue Forever
You'll want to do these every year.
Shutterstock
When you have a crew of besties around, going around the table and saying what you're most thankful for is easy. Your squad is basically the family you choose, which is why hosting Friendsgiving to celebrate how blessed you are with all of your friends around can be so fun and wholesome. If you can't make it home for the official Thanksgiving holiday, relying on Friendsgiving is the second best thing. However, the best of both worlds features both: a pre-Thanksgiving feast with your besties and another on Turkey Day with your family. No matter when or where you celebrate, it's always a good time to start some new Friendsgiving traditions that you'll want to continue forever with your pals.
Most Friendsgivings have the luxury of being laid-back. It's just you and your crew, so you have the freedom to make the party into whatever you want it to be. That means kicking it off with some cool traditions that will bring you even closer together, even if you need to celebrate Friendsgiving virtually. You can either introduce classic ones from your family, such as watching the Macy's Thanksgiving Day Parade (complete with waffles and mimosas), or come up with brand new traditions, like making a homemade photo booth to take pictures in.
If you and your friends are looking for a little seasonal inspo, here are 12 Friendsgiving traditions you can start this year. And here's to having the best Friendsgiving filled with tons of mashed potatoes and memories together with your besties.
No matter how you decide to celebrate Friendsgiving — be it a traditional potluck, a football-themed party, or maybe even an unconventional fast food Thanksgiving — the most important part is that you make lasting memories with some of the people you're most thankful for. Creating some Friendsgiving traditions for you and your besties to look forward to each year is a great place to start.
The CDC recommends traveling only after you're fully vaccinated and your vaccine has become fully effective. If you're not fully vaccinated and must travel, check the CDC guidelines before you book. Check your destination's vaccination and testing requirements before you depart.
This article was originally published on