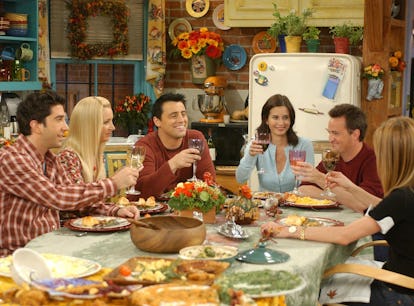 You Can Host Your Own Friends-Themed Friendsgiving With These Turkey Day Tips
Time to break out your Thanksgiving pants.
HBO Max
Rachel Green in Friends might've said Thanksgiving is a time you "should not want to be together, together," but it's actually the perfect time to reflect on the love you have for your family and friends around a table full of food. This holiday season, you can spice up your gathering by hosting a Friends-themed Friendsgiving so that you actually, maybe, want to be together around the table. However, before you invite everyone over, you'll want to make sure you have the perfect Central Perk details to make it a feast to remember.
Throughout all 10 Thanksgiving episodes of Friends, each character has their own iconic moments and inevitable mess-ups. How many times have we seen Monica lose it while trying to cook a multi-course meal in that tiny kitchen? Plus, who can forget when Rachel brings her "traditional English trifle"and Ross claims that it "tastes like feet?" While Chandler and Phoebe think Thanksgiving is "needless-turkey-murder day," you can always count on Joey to show up with his eatin' pants on, ready to get down with some stuffing. Between the turkey wearing sunglasses and the hilarious hijinks, there are so many ways to host a Friends-themed Friendsgiving.
First, you'll want to put up a few decorations and set a table that would make Monica proud. You'll also want to tell your friends to wear their stretchy pants, because you aren't fooling around with the menu. To prep for your own Friendsgiving dinner inspired by Friends, you'll want to be sure your food isn't "what evil must taste like." There'll be something for everyone, whether it's a mockolate pie, grilled cheeses, or a healthy heap of tater tots.
Check out these 10 ideas for Friends-inspired Thanksgiving attire, decorations, and dishes to help you celebrate the ones you love most.