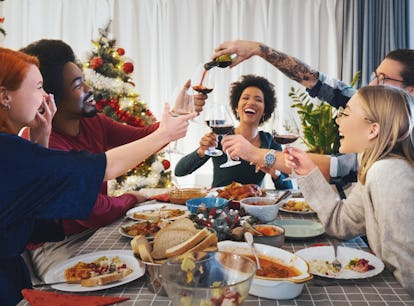 32 Friendsgiving Instagram Captions For Gourd Times With Your Besties
Stuffing is the glue that holds us together.
Aja Koska/E+/Getty Images
Get your bread baskets ready, because Thanksgiving 2021 is right around the corner. Whether you're in it for the stuffing or you'd rather fill up on turkey, I think everyone can agree it's the people you spend the day with that matter most. If you'll be doing a separate celebration with your besties, these Friendsgiving Instagram captions for 2021 are sure to help you look back fondly on all the feast-ivities.
Think of it this way: you'll have a full spread on the table, you'll all be wearing chunky knit sweaters, and most importantly, you'll all be together. The aesthetics are perfect for posting to the 'Gram, so you might as well find a flawless Friendsgiving caption to cap off your 2021 celebration. Plus, it'll be really fun to look back and smile at the memories you made together. Even if Thanksgiving dinner does end up being a disaster. Actually, especially if dinner ends up being a disaster.
When it comes down to it, there's nothing like framily — friends that become family. Sure, your feed may love your turkey puns and warm-hearted quotes, but it all comes down to cherishing the people you're with. To show your appreciation to your #SquashSquad this year, check out these Friendsgiving Instagram captions that are just too gourd to pass up.
"Talk turkey to me."
"Stretchy pants: activated."
"We were together. I forget the rest." — Walt Whitman
"This is family."
"Thankful AF."
"Okay guys, I have exactly 28 minutes before I have to baste again." — Monica Geller, Friends
"Let's give 'em pumpkin to talk about."
"Gourd times with friends."
"Giving thanks for this crew."
"Glad I wore stretchy pants."
"It tastes like feet!" — Ross Geller, Friends
"Don't you put words in people's mouths. You put turkey in people's mouths." — Joey Tribbiani, Friends
"I get pie with a little help from my friends."
"Let's get basted."
"I guess, what I'm trying to say is, I'm very thankful that all your Thanksgivings sucked." — Chandler Bing, Friends
"#SquashSquad."
"It's Thanksgiving and we should not want to be together, together." — Rachel Green, Friends
"Oh my gourd, we love Thanksgiving."
"Pies before guys."
"Birds of a feather flock together."
"We go together like turkey and gravy."
"This group has the tur-key to my heart."
"Full plates, full hearts."
"Together is a wonderful place to be."
"We may not be great thinkers or world leaders, we don't read a lot or run very fast, but d*mmit, we can eat!" — Joey Tribbiani, Friends
"Just keep eating. Just keep eating."
"Why does food taste better when you eat it with friends?"
"Butterballin' with my besties."
"Stuffing is the glue that holds us together."
"Now entering feast mode."
"You're the gravy to my mashed potatoes."
"Celebrating friendship with these turkeys!"