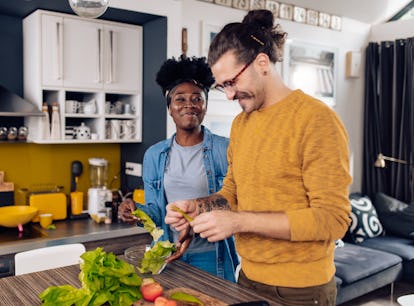 TikTok Recipe Hacks That'll Totally Impress Your Besties On Friendsgiving
Rachel's trifle from Friends is sure to be a hit.
RgStudio/E+/Getty Images
As soon as Halloween is over, your group chat starts to make Friendsgiving plans. While it may not be the time to call dibs on certain dishes you'll be bringing to the potluck, you can check out these TikTok recipe hacks for Friendsgiving to get an idea or two of what you can bring to the table. TikTok isn't just your go-to app for holiday decor inspo and festive makeup looks, but it's also a place to find some super easy Friendsgiving recipes and hacks to make the holiday go off without a hitch.
If you're not much of a home chef, you may have a tradition of bringing some store-bought dishes to Friendsgiving. While that's totally OK, you'll also want to impress your friends this year with something homemade. Of course, it doesn't have to be a stuffed turkey and elaborate apple pie with an Insta-worthy crust. There's no need to stress yourself out, because TikTok has got your back with these 10 Friendsgiving recipe hacks.
Whether you're tasked with bringing an appetizer, side dish, or dessert, you can find something from this list of TikTok Friendsgiving recipes that even a novice in the kitchen can pull off. In fact, these TikTok Thanksgiving hacks are so good that you may even fool your friends into thinking you've gone totally pro since the last time you got together, and that's something to be thankful for.