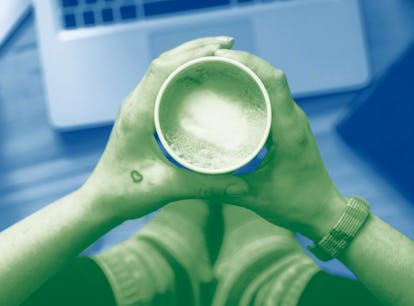 13 Fall Coffee Recipes To Get You Through The Season
Where have these bean all my life?
With fall comes the constant urge to curl up in a comfy oversized sweater with your favorite mug of coffee. Your morning dose of caffeine might be on your daily priorities list — especially during the work week. So, with a new season, consider sprucing up your usual routine with some of the best fall coffee drink recipes from TikTok and YouTube. Instead of simply making drip coffee, you could be savoring a fall-flavored brew that'll get you in the right mood to take on the day and look like it's straight off of Pinterest.
Of course, there's the fan-favorite Pumpkin Spice Latte you'll likely want to enjoy the minute the weather starts getting crisp, but there are other yummy fall recipes you can try as well. You could be sippin' a Harry Potter-inspired butterbeer coffee while wearing your Hogwarts house sweater, or a peanut butter chocolate latte that reminds you of your favorite Halloween candy. Before you even check your inbox, treat yourself to a scrumptious breakfast of fluffy pumpkin pancakes and a maple sea salt latte.
Start off on the right foot by trying any of these 13 fall coffee recipes. You never know, you may just find your new favorite brew you'll want to enjoy all year round.
This article was originally published on