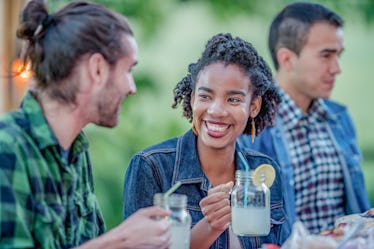 10 Of The Best Lemonade Recipes For A Pitcher-Perfect Backyard Insta
FatCamera/E+/Getty Images
When you think of summertime drinks, lemonade might be the first to come to mind. It's the right amount of delicious and refreshing to keep you cool on extra warm days, so it's good to have some of the best lemonade recipes on YouTube on hand. Just like there are so many different flavors of lemonade, there are also so many different occasions to enjoy a glass or two, so it's time to start mixing.
You can make some romantic rose lemonade for date night at home with your significant other, or put together a pitcher full of blueberry lemonade for a backyard hangout with your roomies. Enjoy watermelon lemonade while listening to your favorite songs of the summer, and peach lemonade while floating in your pool on an oversized inflatable.
Some of these lemonade recipes are just as vibrant and colorful as they are delicious, so you'll want to take a ton of sipping selfies for Instagram. Put your lemonade in a mason jar to give it a rustic chic look, and don't forget to garnish the glass with a cute lemon slice. There are so many recipes to try and so little summer days left to enjoy, so squeeze the day and start making some lemonade.