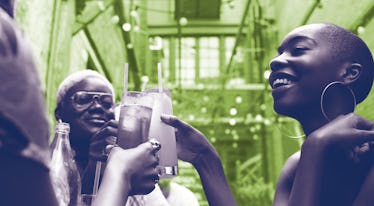 These Refreshing Iced Tea Cocktails Will Elevate Your Backyard Tea Party
Shanelle Infante, Elite Daily
Before the summer slips by, take advantage of the beautiful weather by enjoying some iced tea in your backyard. A tall glass of iced tea is one of the most refreshing ways to cool off on a warm day, and if you're 21 or up, it might be time to try a few iced tea cocktail recipes on YouTube. Elevate your go-to summertime drink with a little whiskey or vodka and an Instagram-worthy garnish (or two).
It could be fun to plan a little backyard tea party with your roomies. Serve some homemade scones and finger sandwiches alongside your boozy iced tea. Dress up in your fave floral lewk and snap some sipping selfies, drinking from mason jars. Don't forget to use some tea puns to caption your pics, like, "Spending quali-tea time with my best teas." You could also enjoy iced tea cocktails with your partner on your back porch at sunset for a sweet ending to date night.
Let's be honest: You could drink sweet tea all day, every day. So, the next time you go to brew some at home, just follow along with any of these eight iced tea cocktail recipes to make something truly tea-riffic.