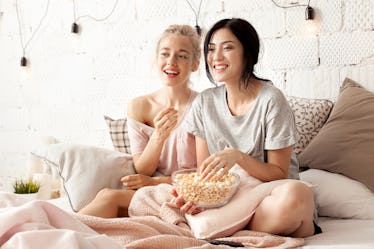 These Tasty Popcorn Recipes Will Butter Up Your Backyard Movie Nights
Shutterstock
Movie night isn't quite the same without popcorn. Snacking on that buttery goodness completes every adorable meet cute and action-packed scene. So, if you're planning a backyard movie night with your roomies or partner, this roundup of popcorn recipe ideas on YouTube can turn your next hangout into a truly a-maize-ing one.
The difference between seeing the movies in a theater versus enjoying them in your backyard is that you call all the shots at home. That means, instead of having regular popcorn, you can make different flavors like peanut butter or spicy buffalo. It's already tough enough deciding what movie to watch, so if you're in the mood for something that's both sweet and savory, try as many of these popcorn recipes as you'd like.
To complete the experience, serve up your popcorn in a retro-looking popcorn bucket (surlatable.com, $10). Watching a Disney film with your fam? Give everyone their own colorful Disney bowl (shopdisney.com, $35) that they can fill up themselves with whatever popcorn catches their eye. You can even get a personalized popcorn bowl from Etsy so everyone knows to keep their paws off of your snack. With so many popcorn possibilities out there, a backyard movie night is a must, so you butter start planning one ASAP.