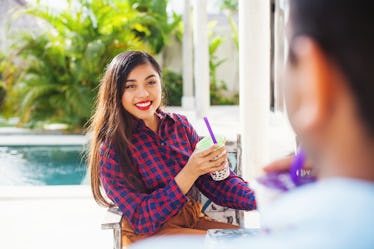 These Bubble Tea Kits On Etsy Were Made For Cozy, Quali-Tea Time At Home
Shutterstock
Whether you're running errands or spending time with your people on the weekends, making a pitstop for bubble tea is always a refreshing treat. Though, with all of the bubble tea kits on Etsy, you don't even need to leave home in order to enjoy this favorite, sweet sip. Leave it to Etsy to always have exactly what you're looking for. This trendy website sells friendship bracelet kits for people who like to craft and wall collage kits to update your space, and now, they have DIY bubble tea kits for all the foodies and sweets lovers out there.
Each one of these bubble tea kits on Etsy features the essential ingredients like tapioca pearls, flavored tea, and even reusable straws. All you need to do in order to narrow down your choices is decide on what flavor tea you're in the mood for. You could go with a tasty black tea or something more vibrant for your Insta feed like a taro tea. Then, get yourself a cute cup, which you can also find on Etsy.
With your drink in hand, you'll be ready for sipping selfies, showing off the tea you make. If you're enjoying your bubble tea with your BFF, don't forget to use a punny caption like, "Drinking with my best tea," or, "Spending some quali-tea time together."