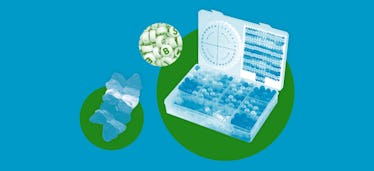 10 Friendship Bracelet Kits On Etsy That'll Be Your Fave DIY This Summer
Shanelle Infante, Elite Daily
The nostalgia is real right now, because friendship bracelets are one of the hottest trends of the season. This DIY project instantly takes you back to carefree summer camp days with your friends, and the first step to making bracelets is collecting the necessary supplies. The many friendship bracelet kits on Etsy have made that part easy for you. These kits include all the materials needed to make super cute bracelets you'll be so excited to make and gift to your BFFs.
Plus, these Etsy friendship bracelet kits are more than just string and beads. Some include other things you might not have on hand, like looms, safety pins, and even scissors. On top of having an adorable, organized kit for yourself to have fun with, these kits can also be great gifts to send your long-distance BFF.
Plan a wine and craft night (if you're 21 or up) with your roomies where you make each other bracelets while watching your fave '90s rom-coms. To stay on the throwback DIY train, you can even make yourselves matching crop top tie-dye tees. While you're listening to *NSYNC and Britney Spears on Spotify, snap some adorable selfies and Insta stories, showing off your new homemade jewelry.