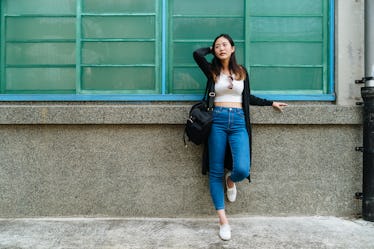 7 Easy Ways To Turn Your Old Tees Into Crop Tops For A Cool DIY Project
Shutterstock
Upcycling is a creative way to turn any clothes that have been sitting in the back of your closet into something new you can't wait to wear. A fun way to upgrade your old tees is to turn them them into cute, summery crop tops. Before you break out your scissors, though, it'll help to know how to turn old shirts into crop tops so you get the exact lewk you're dreaming of.
It may be a little intimidating as you hold your scissors and stare down at your tee. You don't want to accidentally cut it too short or crooked, so watching any of these YouTube tutorials will ease your worries. Most of these methods don't even require any sewing. You can also achieve different styles of crop tops, like ones with long sleeves and adorable knots.
Not only is this a sustainable way to be fashion-forward and environmentally-friendly, but it can also be a fun DIY project to do at home with your roomies. So, plan a fun craft day together with some homemade lemonade while you make your very own crop tops. Don't forget to model your final products for each other like you're in a movie montage. Document it all for the 'Gram, because your friends will definitely want to see your trendy masterpieces.