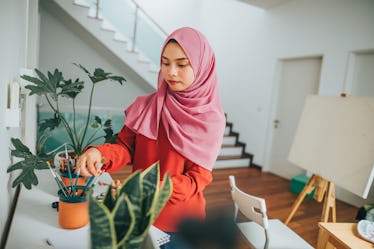 These Summer Home Decor Projects Will Turn Your Space Into A Dreamy Oasis
ibnjaafar/E+/Getty Images
This summer, you're probably channeling your energy into projects you never thought of tackling before. So far, you may have baked a delicious loaf of banana bread or reorganized your spice cabinet so the glass jars have matching labels. There's still plenty of time to tackle even more DIY home decor projects for summer 2020 and add items to your to-do list that'll turn your space into an oasis.
In other words, don't slow your roll the minute you finish going through your closet and creating piles of clothes you can donate, or grab a plant at the grocery store and set it up on the windowsill in your kitchen. Take the motivation you have and run with it as far as you can. Watch tutorials on how to sand and paint your porch, and how to turn a vintage mirror into a modern-looking piece on your wall. Grab the supplies you need, toss it into your garage or backyard, and spend entire afternoons following the steps one by one.
Once you're done, you'll have pieces and rooms that you'll forever adore, because you created them yourself. You'll feel accomplished, inspired, and totally impressed with your ability to style a floating shelf or sew funky pillows that look high-end, too. These are the DIY home decor projects you should start on ASAP to make your home a Pinterest-like oasis.