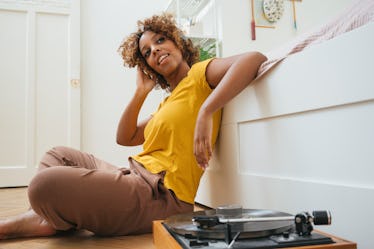 These Room Transformation Vids Will Inspire You To Refresh Your Space This Summer
Westend61/Westend61/Getty Images
Spending time at home might be a creative challenge this summer due to the ongoing coronavirus pandemic. Whether you're relaxing in your backyard, working out, streaming shows, or attending virtual classes while steps away from your bed, keeping things fresh is key. Watching room transformation videos on YouTube and refreshing your space so that it totally reflects your style will be a #must.
That way, when you're waking up for the day surrounded by plants, your favorite color that's been painted on the walls, and a cute bookshelf with your go-to books, you'll feel completely content. Whether you're moved into the guest bedroom of your parent's place or living on your own in a studio apartment, you enjoy where you are and may catch yourself thinking, "I want to stay here for a while." To be honest, when it comes to room transformations, that's the ultimate goal: to feel like you belong and give your space the representative upgrade it needs.
For you, this may mean making room for your guitar and amp, or tossing more glamorous mirrors on the walls. You may even need to watch extra tutorials on how to put up floating shelves or trendy light fixtures. Begin with watching these room transformations, then get into your makeover project right away.