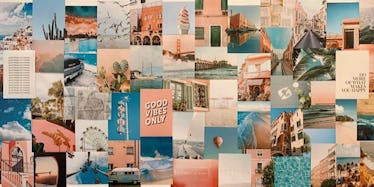 12 Summer Wall Collage Kits On Etsy That'll Give Your Room An Insta Update
Your summer aesthetic is warm, filled with wanderlust, and revolves around having fun. It's no wonder why you would want to bring those good vibes into your personal space, and that's a lot easier to achieve with these summer wall collage kits on Etsy. Instead of giving your space a total makeover, you can create a whole new Instagram-worthy look with a few images arranged however you like on your bedroom walls.
You've probably seen gorgeous collage walls on Pinterest or Instagram, and have always wanted to recreate that look in your room or dorm. Now, there's no need to go out and collect a bunch of old postcards or cut out images from magazines, because these Etsy kits come with everything you need, like a full set of photos that fit a variety of summer vibes. Choose a kit that's vibrant AF if you want to be reminded of days at the beach when you're simply relaxing in bed, or a kit that takes you back to family vacays.
Your new summer lewk starts with browsing through these 12 summer collage kits and adding to cart whichever one floats your boat. Also, depending on how many photos you get in your kit, you can fill up your entire wall or just a cute area above your desk for workspace inspiration. When your collage is finished, you'll need to celebrate with a few room snaps on the 'Gram for all your friends to sea.