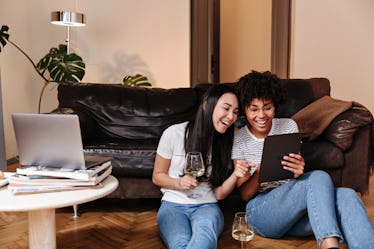 These Cool Friendship Bracelet Tutorials Will Update Your Wine & Craft Night
Shutterstock
It's been a minute since you spent your summers making friendship bracelets during arts and crafts time at camp. Even if you're a bit rusty, all you need are these cool friendship bracelet tutorials on YouTube to get back into the swing of things. This nostalgic DIY project is making a comeback this season, so it's time to break out your supplies and start making the colorful jewelry of your dreams.
If you're in the 21 and up crew, turn your next wine night with your besties into a wine and craft night. The most important first step is picking out your BFF's favorite colors. Once you've got that all sorted out, all you need to do is follow any of these eight YouTube friendship bracelet tutorials. Go back to the basics and make a simple knot bracelet or try a few advanced level designs. Make something with hearts to show your friend how much you love them, or try a thick rag rug design if that's more your BFF's vibe.
When you're done crafting your designs, make sure to take a group photo of everyone showing off their new bracelets. Then, use some friendship bracelet captions for the 'Gram that prove once and for all that you're meant to bead friends forever.