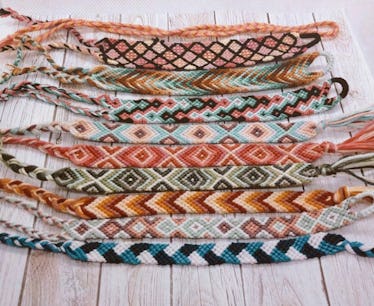 12 Cool Friendship Bracelets On Etsy To Give Your Number One Since Day One
One of the quickest ways to spot two BFFs is if they're wearing matching friendship bracelets. The nostalgic trend of giving your bestie matching jewelry is making a comeback this season, and you can gift the PB to your J one of these cool friendship bracelets on Etsy right now. If you and your best friend are long-distance, this is a super sweet way to show them how much you care with a little surprise delivery in the mail.
Get your friend a homemade bracelet with their nickname on it, or send them all the supplies necessary for them to craft their own. The best part about Etsy is that a lot of their products offer customization, so you can purchase a bracelet that is super unique, just like your best friend.
Plus, Etsy offers so many different options to choose from, like the woven string bracelets similar to the ones you used to make with your BFF at summer camp. There are also beaded ones and stamped cuff bracelets so you can get something that perfectly matches your BFF's style. You know your friend better than anyone else, so out of these 12 adorable friendship bracelets, pick out the one that will instantly make your bestie smile.