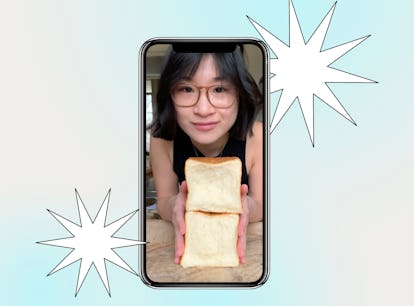 12 Easy Homemade Bread Recipes, So No Knead To Find Your Own
There's even a Texas Roadhouse Rolls dupe.
You love bread. Not only is it a staple you use for sandwiches, to dip in your soups, and to spread your favorite cheese or hummus all over, but it's also super fun to make at home. All you need (or knead) are the right ingredients and some easy homemade bread recipes to begin. Perhaps you've been inspired to make your own bread after watching your friends' Instagram stories of them baking in the kitchen, or you've seen enough banana bread TikToks. Now, it's time to put your apron on and start making your own.
From French bread to focaccia, there are recipes out there for tons of different varieties of bread. Make some white bread to toast for sandwiches, or dinner rolls to serve on the side of your homemade Thanksgiving dinner. Once you've nailed down any of these eight quick and easy bread recipes, you can start to move on to the next level of bread making that includes flavors and special ingredients like rosemary and sun-dried tomatoes.
Who knows, you could become a real bread connoisseur who makes different loaves for your friends and family to try. This could also be a cute date night idea for you and your partner to have some fun in the kitchen. Either way, it's your time to rise to the occasion and make some bread so you can be feasting in dough time.
This article was originally published on