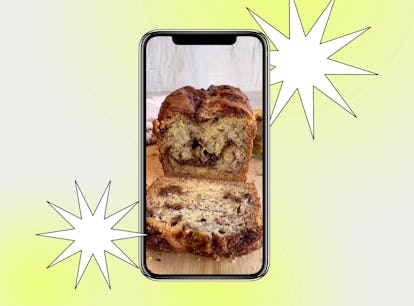 Banana Bread Recipes From TikTok For A Sweet Twist On The OG Loaf
You have to try Bebe Rexha's recipe.
TikTok
When your bananas start to brown, it's time to make some banana bread. While you may have waited too long to enjoy your bananas, you won't have to delay baking them into a sweet treat with all the easy banana bread recipes that are on TikTok. Spending some time in the kitchen with your bestie or partner can also make your baking experience a bonding moment. You just have to ask yourself, "Which banana bread should I try first?"
Of course, there's the OG loaf that you can't go wrong with, but by adding in additional ingredients like chocolate chips, walnuts, and cinnamon, you open yourself up to a whole new world of banana bread possibilities. Start by looking through your cabinets to see what ingredients you're working with. That could help narrow down what bread to make, while checking out these 11 easy-to-follow banana bread recipes on TikTok.
If you happen to pull off the wrong banana from the batch, don't cry like Taylor Swift did. Instead, make both a vegan banana bread and a peanut butter banana bread. For a delicious breakfast, go for a hybrid of coffee cake and bananas for your loaf. This list also has a single-serve banana bread you can make in a mug if you want to enjoy it solo. The fun really comes from your time in the kitchen, so document your baking attempts for a TikTok vid of your own. The most a-peel-ing part of all is that at the end of the day, you'll have tasty banana bread to enjoy with the people you loaf the most.
This article was originally published on