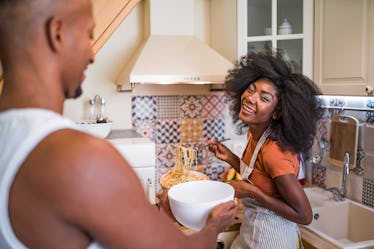 These Food Influencers Spilled Their Go-To Fall Recipes For Date Night & Yum
valentinrussanov/E+/Getty Images
Whether it's a hearty chili or butternut squash pasta recipe you got from one of your fave influencers, there's something special about enjoying a homemade meal with your love. It gives you quality time to catch up about your days and make some savory new memories. Of course, scouring social media for the tastiest, or even the easiest, recipe for date night can cut into valuable time you'd use to get dressed up, set the mood, and shake up apple cider cocktails. So, these food influencers revealed their go-to fall recipes for a date night so you can impress without any stress.
First off, make sure your kitchen is equipped with the essentials. For instance, if you're making Jessica Hylton Leckie's (@jessicainthekitchen) creamy tomato pasta, you should have a pot and a pan on hand so you can boil water for your shells as well as sauté onions and garlic. You may want to get some cocktail supplies as well, to whip up a batch of homemade apple cider for you and your love to enjoy with your meal.
Before you even prep your ingredients, though, decide whether you want your SO to help out in the kitchen, or totally surprise them with a new dish. Working alongside them to create a tasty meal could serve as a date night activity that you turn into a new Friday night tradition. But, if your love language is acts of service, you may feel more excited about plating a homemade dish, and seeing your SO's lovely reaction when it reaches the candlelit table.
Make your decision after looking through these mouthwatering fall recipes, brought to you by five talented food influencers.
Some responses have been lightly edited for length and clarity.