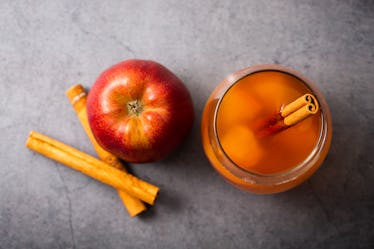 The Best Apple Cider Cocktails Will Take You On A Fall-Themed Kitchen Adventure
HUIZENG HU/Moment/Getty Images
You can't get enough of apples in the fall. On the weekends, you may go to the local orchard to pick your own, and then use them in a sweet pie or crumble. Have you ever tried mixing your apples with ginger beer or cinnamon sticks to create a fall-loving drink, though? If not, then you'll love these apple cider cocktail recipes on YouTube, and your next tasty adventure in the kitchen.
An apple cider cocktail is a must-have for your virtual happy hours in October and November, and will pair so nicely with a bold cheese and a crispy cracker. While you and your friends are playing games like "Never Have I Ever" and "Guess That Halloween Movie" on FaceTime or Zoom, it will start its very own party in your mouth by treating your tastebuds to a world of new flavors.
Of course, before you can have this experience, you'll need to snag some special cocktail-making supplies like a pitcher, shaker cup, and muddler. Start by gathering up those essential utensils, and ingredients for one of these drinks. Then, go to your kitchen and mix an apple cider cocktail — aka the fall drink of your dreams — using a recipe below.