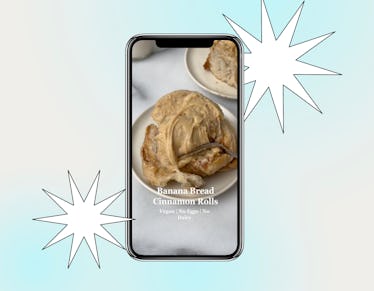 TikTok's Banana Bread Cinnamon Rolls Are The Best Of Both Worlds
Did I mention they have a peanut butter frosting?
TikTok/Elite Daily
Recipes for both cinnamon rolls and banana bread have gone viral on TikTok before, but a new trending recipe making cinnamon rolls with banana bread is taking over the FYP. While some Frankenfood combinations on the foodie side of TikTok tend to fall under the "trust me, it's good" category, banana bread cinnamon rolls are something you'll probably want to try immediately. Plus, they come with a drool-worthy peanut butter frosting that'll make you wonder why banana bread cinnamon rolls haven't been a thing this whole time.
This particular banana bread cinnamon rolls recipe, which comes from TikToker @thebananadiaries, doesn't require any eggs, gluten, or dairy, which is perfect for anyone who's gluten-free or on a vegan diet. These rolls are also served with a peanut butter cream cheese frosting, so they're like a cinnamon roll version of Elvis' favorite sandwich. Keep in mind that everything from the banana filling to the actual cinnamon roll dough is homemade, so this recipe includes a few extra steps compared to the easy cinnamon rolls hack on TikTok. However, it's all worth it when you're ready to serve these melt-in-your mouth treats.
How To Make Banana Bread Cinnamon Rolls On TikTok
There are three parts to TikTok's banana bread cinnamon rolls. You have the actual cinnamon roll along with the banana filling, and then the peanut butter cream cheese frosting. To make all three, you'll need quite a few ingredients, so let's start with the cinnamon rolls. For the dough, add the following to your shopping list:
4 1/4 cups all-purpose flour
8 grams activated yeast
1/4 tsp sea salt
1 tsp cinnamon
1/2 tsp nutmeg
1/2 cup brown sugar
1/4 cup granulated sugar
1 1/4 cup dairy-free and unsweetened milk
1/3 cup mashed bananas
1/4 cup melted, salted vegan butter
1 tsp vanilla extract
You'll first want to prep a bowl with some olive oil or coconut oil before activating your yeast. To do so, heat your dairy-free milk to about 110 Fahrenheit and add in a tablespoon of sugar. As you whisk that together, sprinkle in your yeast. Cover your bowl and let it sit for about 10 minutes. While that's happening, mix together your flour, salt, cinnamon, nutmeg, brown sugar, and regular sugar in a bowl. As soon as the yeast is ready, pour that into the bowl along with the bananas, melted vegan butter, and vanilla extract. You'll keep mixing until your dough is ready to knead.
Let your dough proof for about an hour, while covered in a warm place, and start working on your banana filling. For that, you'll need the following ingredients:
1/2 cup softened vegan butter or coconut oil
3 tbsp ground cinnamon
2/3 cup brown sugar
2 mashed, large bananas
Combine your sugar and cinnamon first, and set aside as you roll out your cinnamon rolls. You can use a rolling pin for this. Create a large rectangle out of your dough and spread the vegan butter or coconut oil on top. Sprinkle on the cinnamon and brown sugar mixture before spreading on the mashed bananas. Then, slice 12 even rectangles and roll to form the actual cinnamon roll. Place your 12 rolls in a greased pan and let proof for a second time — about 30 minutes. When it's time, bake for 25 to 30 minutes at 350 Fahrenheit.
While the cinnamon rolls bake, you'll need to make the peanut butter frosting that goes on top. The peanut butter frosting will need the following ingredients from the store as well:
1/2 cup vegan cream cheese
2 tbsp vegan butter
1/2 cup creamy peanut butter
1 cup powdered sugar
1 tsp vanilla extract
First, mix together the cream cheese and vegan butter for about two minutes and then add in the peanut butter. The powdered sugar and vanilla extract will be last. Once that's mixed in, you're ready to spread on top of your freshly baked cinnamon rolls to serve.
The banana filling with peanut butter frosting makes a perfect sweet and salty combo, but if you're not vegan, you could also sprinkle some bacon bits on top to elevate your cinnamon rolls and complement the peanut butter and banana flavors. They may even bring up the Insta-worthy factor by adding some crispy texture and a pop of color to your cinnamon rolls.