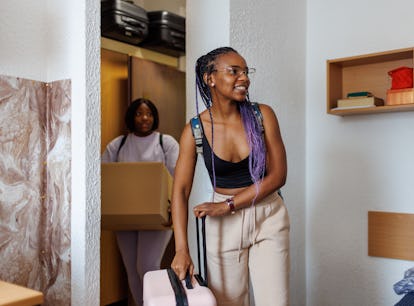 The Dorm Decor For Your Sign Will Make Your Room So 'Gram-Worthy
10/10 would recommend for your space.
Back-to-school season always coincides with autumn, which doubles the need for newness in your living space. Whether you're living in a dorm for the first time or you're back for the fall semester, you're going to want to amp up your decor or completely alter your previous style. After all, having a space that embodies your creativity and personality can make your home away from home feel like it's really *yours*. If you're feeling overwhelmed by the thought of starting over again, though, then consider the dorm decor or aesthetic that's most ideal for your zodiac sign. It's certain to make the process a lot easier.
Each of the 12 zodiac signs has their own unique, personal style in their home that they gravitate toward. For instance, Cancer risings are all about the cozy vibes, so they usually prefer a warm blanket and a fuzzy pillow nearby in order to feel fully comfortable, while others despise the sight of anything warm and/or fuzzy. Luckily, there's plenty of different dorm aesthetics that are certain to match the vibes of your zodiac sign. Feel free to add as many ideas to your Pinterest board as you please. (No need to give any credit.)
Aries Zodiac Signs: Funky Accent Rugs
You're all about expressing your individuality, Aries. Since you have such a bold personality, adding unique textures and colors via funky accent rugs to your dorm are some easy ways you can display your fiery nature and spice up your space. Bonus points if you go with a mat that has a cheeky phrase on it.
Taurus Zodiac Signs: Decorative Vines
Your aesthetic tends to be cozy yet creative, Taurus. Not only do decorative vines add some greenery to a small space, but they're super easy to hang up (and take down when the year ends). Faux vines are also the perfect alternative if you don't have space to bring all of your plants from back home, allowing you to incorporate the foliage you love so much while you're away.
Gemini Zodiac Signs: A DIY Bookshelf
You put Hermione Granger's bookish personality to shame, Gemini. It's essential that you have a place to put the wide range of information and knowledge you keep around. The best way to ensure that your collection stays in one place? Only the most gorgeous bookshelf ever, made with your own two hands because you're creative and crafty like that. DIYing it also makes it budget-friendly, so you'll have even more money to buy some new reads.
Cancer Zodiac Signs: Faux Fur
You prioritize comfort over all else, Cancer. Your home is where you tend to feel the safest, so it's important to have plenty of warm and fuzzy accents around to add some coziness to your environment. They're bound to transform any dorm room into a relaxing oasis that you'll never want to leave.
Leo Zodiac Signs: Neon Signs
Your bright and bold personality colors every room you enter, Leo; neon signs only enhance it. They add vibrant energy to any environment, without taking up too much wall space. As a fire sign, you'll likely gravitate toward options with a lot of red or orange, and you can even make custom neon signs for an added personal touch. Nothing says "Leo" like a neon sign can.
Virgo Zodiac Signs: Succulents
As an earth sign, you have a special place in your heart for greenery. Succulents don't take up too much space, and they're pretty low-maintenance, which is perfect for a busybody like yourself. While you will still have to remember to water them on occasion, they're pretty self-sufficient, just like you.
Libra Zodiac Signs: Accent Wallpaper
You're all about accentuating a space, Libra. Peel and stick wallpaper makes it easy to add a pop of color to your dorm without leaving a permanent alterations behind, and they allow you to personalize your space in a fun way. You excel at knowing exactly how to decorate any room, and this method is a great way to add your signature touch.
Scorpio Zodiac Signs: Cherry Wall Art
As a Mars-ruled sign, you're a fan of all things red, Scorpio. With cherries being ~on trend~ at the moment, sprucing up your dorm with some fruit-inspired touches is a must. Fun fact: Cherries are often considered to be the most alluring fruit, so if you're looking to infuse your environment with some sensual touches, they're the perfect choice.
Sagittarius Zodiac Signs: A Macrame Photo Gallery
Your adventures are your top priority, Sagittarius. There's nothing you love more than showcasing the photos from your travels, which is why a macrame photo gallery is a must-try. This cute trend is a fun way to decorate your dorm with your travels, while keeping you inspired to plan your next trip. It's a great way to personalize your space without having to cry in broke college student.
Capricorn Zodiac Signs: Dark Academia Styles
You're a minimalist, Capricorn, especially when it comes to decorating. That's why the dark academia aesthetic is perfect for your dorm room. Complete with plenty of candles, thrifted furniture, and a variety of neutral-toned decorations, this style is full of your fave things.
Aquarius Zodiac Signs: Checkered Patterns
You're all about unconventional designs and textures, Aquarius, taking a traditional style and adding your own unique twist to it. The checkerboard pattern is the perfect way to achieve this. Pillows, rugs, or blankets are the easiest ways to incorporate the look, but feel free to play around with this high-contrast decor in any ways you see fit.
Pisces Zodiac Signs: Mushroom Decor
If anyone loves a whimsical vibe, it's you, Pisces. You tend to lean toward decorative items with unique shapes and pops of color, which is why mushroom decor is a trend you should try. It adds something fun to your space without being too overwhelming, and can pair easily with your wide-ranging taste. As the most versatile sign of the zodiac, it's definitely your vibe.