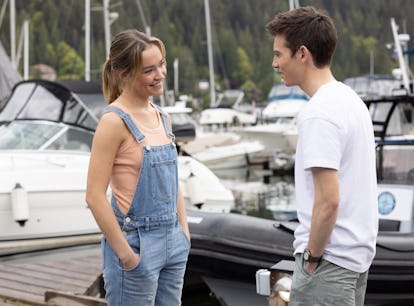 Plan A Road Trip To These Cruel Summer Season 2 Filming Locations
A vacay with your ride or die is a must, but you'll need your passport.
Justine Yeung/Freeform
What really went down between Isabella, Megan, and Luke? That's the question on everyone's minds this season of Cruel Summer, which is set at the start of Y2K. Along with a new cast of characters and a nostalgic time period, Season 2 of Cruel Summer has a new setting. Unfortunately, Chatham, Washington is a fictional town in the Pacific Northwest, but fans hoping to set-jet to where Cruel Summer Season 2 filmed are in luck. All you need is a passport.
Season 2 of Cruel Summer filmed in Vancouver, Canada last year. Being on location allowed for the cast to really bond and spend a lot of time together. Sadie Stanley tells Elite Daily, "It was like summer camp." It wasn't all bonfire s'mores and warm weather, though. Griffin Gluck shared that after starting off with two weeks of night shoots where everyone was "delirious, tired, cold, and hangry," the cast " got super close" and it allowed them to become IRL friends. "That was an immediate bonding experience," he admitted.
For your own bonding experience with your besties, you may want to plan a trip up north to visit some of the Cruel Summer filming locations. Just grab your passport, some butterfly clips, and a 2000s mix filled with Spice Girls and Christina Aguilera, because you're going to need them.
Where Was Cruel Summer Season 2 Filmed?
It's not unusual for a production to film in a completely different location than where the actual story takes place. For example, Stranger Things doesn't film in Indiana, but rather Atlanta, Georgia. The reason for this is either due to budget issues or it's just easier to film in a more remote location. Many shows call Canada their home, because of this. In fact, one Cruel Summer filming location may be familiar to fans of the CW series Nancy Drew.
The Chatham marina where Megan and Luke can be seen talking about Isabella coming to town in Episode 1 of Cruel Summer Season 2 is the same marina where The Claw restaurant from Nancy Drew is located. The Sunset Marina, which is on the Sea-To-Sky Highway, is where a majority of Cruel Summer was filmed. If you're planning a road trip to visit some of these locations, a stop at the marina is a must-do just to snap some Insta-worthy pics by the water with the mountains in the background. You can take in more of the views on your drive along the highway as well.
Another spot from Episode 1, in the winter 1999 timeline, is where Megan takes Isabella up to a cliff and toasts to her BFF. This picturesque spot is Whytecliff Park. It's only about a 10-minute drive from the marina. While you're there, you don't have to jump into the cold water with your "ride or die" like Isabella and Megan do, but you can cheers to your Cruel Summer adventure with some hot cocoa.
Fans of the show will also want to swing by Surrey, British Columbia. Cloverdale, the town center, has that small town feel that Chatham has in Cruel Summer. You may even feel like Megan and Isabella as you're walking around, like they do in the first episode when Megan says to "keep your expectations low" about Chatham. Cloverdale also has the Clova Theatre, which was used for filming and given the Y2K treatment by adding 1999's Girl, Interrupted and The Talented Mr. Ripley to the marquee. Additionally, Surrey's Brownsville Pub can be seen in the Cruel Summer trailer.
Twihards may also recognize Surrey, because it was used as a filming location for The Twilight Saga: Eclipse. While the first Twilight film stayed close to Forks, production moved further north for the rest of the films. They even built a replica of Bella's house in Surrey, which was also used in Breaking Dawn Part 1 and Part 2. As you keep watching Cruel Summer this season, there may be even more filming locations in Vancouver you'll want to add to your list.