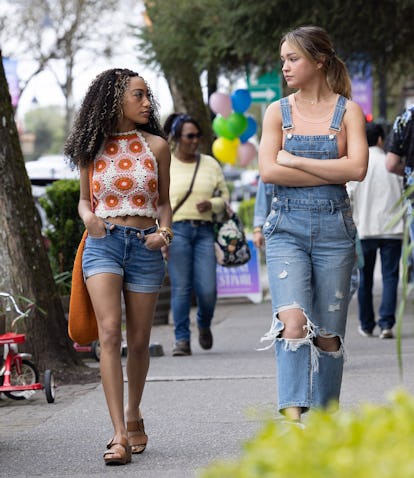 Sadie Stanley & Lexi Underwood On Secrets, Lies, & Female Friendships
Plus, the Cruel Summer stars share the last thing the cast talked about in their group chat.
Freeform/Justine Yeung
In just one year, Sadie Stanley and Lexi Underwood's Cruel Summer Season 2 characters — Megan and Isabella — go from strangers to besties to enemies. "We dive into what really is a complex female friendship," Stanley tells Elite Daily, "and the way that it ebbs and flows." Underwood agrees, "Their friendship, it's a real roller coaster, honestly." It's a roller coaster that becomes a murder mystery, where even the audience is in for a ride.
While Season 2 may have a completely new cast, setting, and story, all the drama you loved from Cruel Summer Season 1 is back again. At the center of it all is Megan, Isabella, and their shared love interest, Luke. Sure, you've seen love triangles in TV shows and movies before, but not like the one in Cruel Summer. In Freeform's anthology series, you get to see how a messy romantic relationship unfolds when there are two besties at the center of it all. "I love that Megan and Isabella don't let a boy get in the way of things," Underwood tells Elite Daily. Stanley agrees, adding, "I really like that they didn't pit the two girls against each other over a boy. We've seen that a million times."
Watching Cruel Summer, Megan, Isabella, and Luke's love drama unfolds over the course of three very different timelines that span from summer 1999 to summer 2000. That means nostalgia is making a comeback this season as well, with Cruel Summer officially in its Y2K era complete with Christina Aguilera's "Genie in a Bottle," camcorders, and butterfly clips.
Below, Stanley and Underwood chat about the Y2K trends they actually remember, how difficult it was shooting each timeline, and the last thing the Cruel Summer cast talked about in their group chat.
Elite Daily: Season 2 of Cruel Summer follows a different story than Season 1, but there's still this theme of secrets, lies, and female friendships. What was it like bringing Megan and Isabella's complex relationship to life?
Sadie Stanley: It was really interesting. When we first meet Megan and Isabella, they are complete opposites of each other. Isabella comes in with all this energy and charisma. Megan doesn't love that because she's a goody-two-shoes who hasn't really broken any rules before. Isabella gets her to let loose a little bit with cliche teenager experiences like kissing a boy and drinking for the first time.
Then, we see a huge change in that third timeline where they're kind of strangers again. It's a bit of whiplash, but I think having a great scene partner like Lexi just made it so much fun. We were crying together one minute, yelling at each other the next, and then giggling and laughing as best friends. We went through a lot together, on-screen and off.
Lexi Underwood: It's crazy that it's only the span of a year because when she meets Megan, Isabella is set on having this perfect all-American high school experience. She wants the best friend who is like a sister. I think it's really beautiful because Megan teaches her a lot as well.
When you first see Isabella, she has this pressure that she's put on herself to be perfect and to seem like she has her life together. By the second timeline, she's just being normal and not worried about all the things that she was worried about before. Then, by the third timeline, they're strangers again, which is really weird. It takes you on an emotional roller coaster when it comes to those two and their friendship.
ED: You didn't film in timeline order. How hard was it getting into character each time and remembering how you felt about each other in each scene?
SS: It takes a bit of adjusting to, for sure. It was a wake-up call, like, "OK, I need to be really prepared. I need to make sure I'm coming into each timeline knowing what my character knows." It was a lot. I think having those different physical appearances for each timeline was super helpful, just to put yourself in the right mindset.
LU: We have hair, makeup, and wardrobe to thank because that helped with the physical aspect. But emotionally, I made playlists for each timeline of songs that Isabella would be listening to, because it really was hard to be able to bounce back and forth. Something that gets me emotional or changes my mood is music, so music really helped me immerse myself into that. It was challenging, but I feel like I came out as a better actor on the other side of it.
ED: What were some of the songs on your playlist you created for Isabella?
LU: During the first timeline, Isabella was super big on Britney Spears, Destiny's Child, and Aaliyah, so that was on the first playlist. And then for the second timeline, she's listening to anything that she thinks Megan would be listening to, because she's tethered to her during that time. For the third timeline, Isabella is listening to The Cranberries' "Linger." That is probably her favorite song — either "Fade Into You" by Mazzy Star, or "Put Me Down" by The Cranberries.
SS: It's funny you do that because I think in that second timeline, Megan's listening to everything that Isabella listened to and introduced her to in that first timeline. Then in the third timeline, Megan's going hardcore. She's got this really dark exterior, she's leaning more goth, and she's listening to Nine Inch Nails. It's very intense and dark.
ED: Your characters both have a relationship with Luke, but you stay friends in your love triangle. What would you do if your BFF liked your crush in real life?
LU: When Isabella realizes that Megan likes Luke, she quickly steps back, because she realizes that there's an actual chance between them. I would say that a real friend would actually do that. If not, I would have to set some boundaries and reevaluate that friendship.
SS: I totally agree. I think Isabella was so chill for that. She was like, "Oh. No, wait, you guys have so much history. I don't really see a future with this boy. Have at it. I love you. We're going to always be friends first before any boy can mess that up." I think Megan really appreciates that, or she should at least.
ED: The cast got close while filming in Canada last summer. Do you have a group chat now?
SS: Absolutely.
LU: We all still hang out a lot.
SS: We spent so much time together in Vancouver. It was like summer camp. We've definitely kept that going since being back in LA. We see each other all the time.
ED: Do you remember the last thing you guys texted about in your group chat or things you talked about?
LU: Literally, I'm going through my phone right now.
SS: Griffin Gluck, Lexi, and I were texting about the interviews we're doing for the premiere.
LU: The last thing that we talked about was our excitement about the trailer actually.
SS: Yeah, and the poster just dropped. So, it was us geeking out over that.
ED: The show takes place from 1999 to 2000. Did you get all of the 2000s references in the script, or were there things you didn't know?
LU: There were some things I really did not know. I can't lie. As an '03 baby, I was out of the loop on some stuff, but for other things, I got, like the Caboodles. When I came to props and stuff, I was like, "Oh, I totally know what this is." But then I saw a pager, and I was like, "I don't know."
SS: I wouldn't know how to work a pager if you put one in front of me. There's also a line I had like, "Zodiac full of Zima." I had to Google Zodiac and Zima. I don't know if that's Y2K, or if that's just me not knowing something.
ED: Speaking of the script, were there any surprises you read that really shocked you?
LU: Yeah, absolutely. We were out of the loop with some stuff. We didn't have all the scripts. When we first started filming, we only knew what was happening up until Episode 5. So there were a lot of times when we would think that one thing would be going a certain way, and it would go in the complete opposite direction. Reading the finale script was a standout. My jaw was on the floor the entire time.
SS: Yeah, totally. Every time we got a new script, Lexi, Griffin, and I would get together and be like, "OK, what does this mean?" And we would come up with new theories. We were always wrong, but that's the fun part.
ED: How good are you at keeping secrets?
LU: Terrible at it.
SS: If it's a secret about me, I can't keep it to save my life. I have to say everything. If I have a gift I want to give somebody or if I did something, I tattle on myself every single time. If it's somebody else's secret, my lips are sealed.
ED: Which timeline had your favorite fashion? Summer 1999, winter 1999, or summer 2000?
LU: Summer '99 for me. It's just so colorful and vibrant. There are a lot of low-rise jeans and cute little tops in summer '99, so I'd have to go with that one.
SS: Summer '99 was the most comfortable for me, but winter '99 was closest to what I would wear. That felt cute with the low-rise jeans, little skirts, and boots. But the third timeline was fun. I got to do things I'd never wear.
ED: Are there any Y2K style trends you love?
SS: I am currently in some baggy, low-rise, cargo-type pants, so that's definitely something that I like.
LU: The low-rise jeans. I love little butterfly clips in the hair. I feel like the platform sandals especially. They've made their comeback. Everything that we love from the early 2000s is here and alive and well.
ED: Is there anything that you hope doesn't come back from the early 2000s?
LU: You know what? Those colorful flannel shorts. Maybe that's just me.
SS: No, I had the colorful flannel print. I had pink ones and blue ones. I know exactly what you're talking about.
LU: I would wear those, and I would do a big bow in my hair. Very questionable. I hope those don't come back.
This interview has been edited and condensed for clarity.