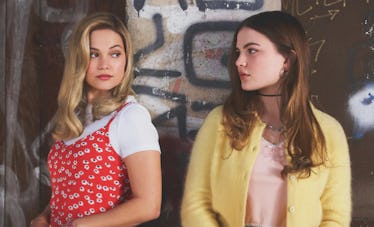 Cruel Summer Season 2 Recast To Add A Little Fires Everywhere Star
Lexi Underwood has entered the chat.
Freeform
Another summer is just around the corner, and it's going to be entirely different from the last. The same day Freeform aired its highly anticipated Season 1 finale of Cruel Summer (June 15, 2021), the network also confirmed the hit teen mystery would return for a second season. After the season's wild cliffhanger, fans likely have a ton of questions about Cruel Summer Season 2, but don't expect any more info about Jeanette, Kate, and the rest of the Skylin crew. Surprisingly, the series opted for the anthology route, meaning Season 2 will introduce a whole new cast and revolve around a new central mystery. Here's what fans can look forward to.
Spoiler alert: This post contains spoilers from Cruel Summer's Season 1 finale. Given the immense success of Cruel Summer, it came as no surprise that Freeform immediately renewed the twist-filled '90s mystery for a second season. What did come as a surprise, though, was the shocking revelation in the final moments of the Season 1 finale. After Kate learned it was actually Mallory and not Jeanette who witnessed her in Martin's home, it looked like the story would end with a nice resolution for everybody. But just when fans thought the show was over, Cruel Summer flashed back to 1994 and revealed Jeanette had once again broken into Martin's house and heard Kate yelling for help while locked in the basement, but decided not to help her.
The flashback cliffhanger teased there's much more story to tell, but don't expect Season 2 to return to the scene of the crime. Freeform confirmed on April 21 that Cruel Summer will actually be an anthology series, with Season 2 centering on a completely different mystery than Season 1.
Cruel Summer Season 2 Release Date
There's no announced release date for Season 2 just yet, but filming commenced in April 2022 so the cast and crew are already hard at work making the new season. It's slated to premiere on Freeform later in 2022.
Cruel Summer Season 2 Cast
Freeform president Tara Duncan first teased the possibility that Cruel Summer could become an anthology series in a June 15 Deadline interview. Sure enough, the network confirmed the anthology route as Season 2 entered production, revealing the new season would be set in a Pacific Northwest town rather than Skylin, Texas.
Season 2 will center on a love triangle involving characters named Megan, Isabella, and Luke. Sadie Stanley will star as Megan, with Griffin Gluck as Luke. Although Eloise Payet was initially announced as Isabella, The Hollywood Reporter has since revealed she's been recast, and now Little Fires Everywhere star Lexi Underwood will play Isabella.
Cruel Summer Season 2 Trailer
It's too early for Cruel Summer to have released any footage from Season 2, but hopefully the show will give fans a first look at the new characters later in 2022.
This article was originally published on