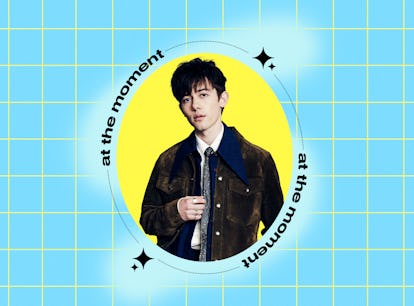 Griffin Gluck On Filming Cruel Summer Season 2, Y2K, & MGK
"There's nothing that'll bond people more than a two-week night shoot."
Elite Daily; Maarten De Boer/Getty Images
In Elite Daily's series At The Moment, celebs dish on their current projects, pop culture hot takes, and everything taking over their group chats. Below, Cruel Summer star Griffin Gluck opens up about what he actually knows about the early 2000s and what it was like working with celebs like Adam Sandler and Pete Davidson.
Griffin Gluck's about to have anything but a cruel summer. The 22-year-old is set to star in the second season of Freeform's hit anthology series Cruel Summer. This time around, fans will be taken back to the summer of Y2K, where friends Megan (Sadie Stanley), Isabella (Lexi Underwood), and Luke (Gluck) realize sometimes love triangles have deadly consequences. "Luke is a complex dude," Gluck tells Elite Daily. "He's got some great qualities and some not-so-great qualities — as we all do. But I think we're similar in the sense that he's young and figuring it out one step at a time."
Gluck may be young, but he's already got an impressive resume that any actor in Hollywood would envy. One of his first film roles was playing Adam Sandler and Jennifer Aniston's son in 2011's Just Go With It. "I was a 9-year-old kid," Gluck says. "I had no clue what was going on." But he did pick up some pointers from Sandler and Aniston while watching them on set. "Adam definitely was a great guy."
While getting to hang with Sandler may be a dream come true for many, Gluck admits shooting Big Time Adolescence with Pete Davidson and Machine Gun Kelly in 2019 was "the best experience of my life." "They became like big brothers to me," he says. "We spent the whole summer just messing around and having fun." When MGK was doing a show in Vancouver while Gluck was filming Cruel Summer there last summer, he even stopped by the concert and got a special shoutout. "I kind of freaked out a little bit."
As far as his Cruel Summer cast goes, Gluck is also really close with them. "There's nothing that'll bond people more than a two-week night shoot," he jokes. Along with those long shoots, the cast also had to deal with filming the series out of order. Cruel Summer follows three different timelines that span from summer 1999 to summer 2000. Instead of filming in timeline order, Gluck reveals they shot everything as you see it from episode to episode. "We didn't have all of the episodes given to us," he says, so sometimes they'd be shooting a scene in the future without knowing what had happened to them in the past. Despite it being a confusing shoot, Gluck, Stanley, and Underwood keep viewers invested in the Y2K teen mystery.
Below, Gluck shares more of his thoughts on the 2000s, like whether he's a Backstreet Boys or *NSYNC fan, and if he's actually good at keeping secrets.
This interview has been condensed and edited for clarity.
Elite Daily: What's your biggest career goal?
Griffin Gluck: To direct.
ED: Who is your dream co-star?
GG: There are so many. Steve Carell. I'll just throw that one out there.
ED: Who is your first celeb crush?
GG: Too many to count, but I'm guessing probably Margot Robbie. That's not true actually. That's just the first person I can think of.
ED: Who is your acting role model?
GG: Leonardo DiCaprio.
ED: What's your fave Y2K fashion trend?
GG: Britney Spears and Justin Timberlake's all-denim outfit. I did that for Halloween a few years ago [with Sabrina Carpenter].
ED: What's a 2000s trend that you hope never comes back?
GG: Cargo shorts.
ED: Favorite love triangle in a TV show or movie?
GG: Oh, man. I can't think of one.
ED: You're not like a Twi-hard?
GG: No, I'm not. I'll say Twilight, but I don't mean it.
ED: What's your fave song from the early 2000s?
GG: "Float On" by Modest Mouse.
ED: What would be your AOL Instant Messenger screen name?
GG: Probably the email that I made when I was in middle school, which I swear to you was incredibly innocent, but comes across as disgusting for a middle schooler. I won't bore you with the backstory, but it was scruffyballs24.
ED: Backstreet Boys or *NSYNC?
GG: Backstreet Boys. No, no, no, no. *NSYNC. Sorry, Justin.
ED: Are you good at keeping secrets?
GG: Yeah. The best. So good.
ED: If you could time travel to any decade, where would you go?
GG: I would go to like 13,000 years ago, and I would see how the pyramids were built.
ED: What would you be doing if you weren't acting?
GG: Photography, hopefully.
ED: What's your most controversial hot take?
GG: Oh, I think Birkenstocks are genuinely stylish.