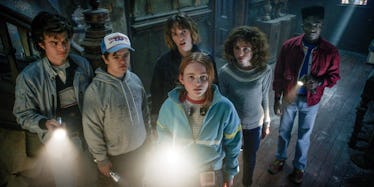 Where Was Stranger Things Season 4 Filmed? These 16 Locations Will Take You To The Upside Down
Visit where you first hear "Running Up That Hill" by Kate Bush.
Netflix
The first part of Stranger Things Season 4 is finally here. If you were seriously missing the Hawkins crew, you probably marathon-watched the seven episodes as soon as they dropped on Netflix. Along with new characters, this final season also introduced fans to new Stranger Things locations. If you know that Stranger Things often films in Georgia, you might be wondering where was Stranger Things Season 4 filmed? While the crew also shot in New Mexico for its Southern California locations and Lithuania for Russian this season, there are still tons of Stranger Things filming locations in the Atlanta metro area you need to visit.
Warning: Mild spoilers for Stranger Things 4 follow. Doesn't planning a trip with your besties to visit the Stranger Things filming locations in Georgia sound like even more fun? Since Season 1, the Netflix series has filmed in and around Atlanta, and a lot of the most memorable spots from the show can still be seen today. You just need to know where to find them. Unlike the crew struggling to find Will in the Upside Down in the fictional town of Hawkins, Indiana, you'll have a better time navigating Atlanta with this map of Stranger Things' most popular filming locations. All you need to do is get your BFFs on board.
Plan a spooky Stranger Things-inspired Halloween trip in October or a summer getaway after part two of Season 4 premieres. Rent an Airbnb near one of the Stranger Things locations, like this two-bedroom home right next to Hawkins Lab. You'll be extremely close to all the fun and ready to explore. Map out your days to visit as many spots as you can. Take Instagram pics while wearing an '80s-inspired romper like Eleven's from Season 3 or recreate your favorite scenes for a TikTok video.
Not only can you visit the pool where Billy Hargrove was a lifeguard for the perfect Stranger Things vacay, but there's even the Starcourt Mall and eerie Creel House featured in Season 4 among this list of 16 Stranger Things filming locations near Atlanta. So, what are you waiting for? It's time for an adventure to the Upside Down and back.
1
The Creel House
906 E 2nd Ave, Rome, GA 30161
visit the website
Of course, the one thing missing from Stranger Things so far was a creepy Victorian Gothic-style dilapidated house for the kids to explore. Luckily, Season 4 introduces the Creel House, which is actually the Claremont House IRL and located in Rome, Georgia. This gorgeous home was the Claremont House Bed and Breakfast for 16 years, but closed in 2019. You can still check out the location on your Stranger Things location tour, but be mindful that it's now a residential home.
The CDC recommends traveling only after you're fully vaccinated and your vaccine has become fully effective. If you're not fully vaccinated and must travel, check the CDC guidelines before you book. Check your destination's vaccination and testing requirements before you depart.
This article was originally published on