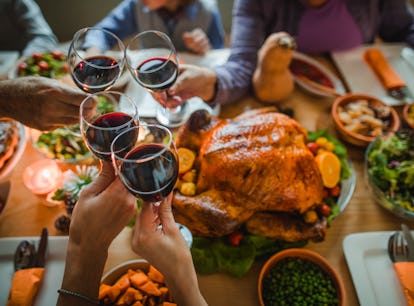 9 Recipes For Your College Friendsgiving That Are Easy But Impressive AF
Casse-roll up to your bestie's with some delicious eats.
skynesher/E+/Getty Images
Nestled right in between Halloween and the holidays is one of the most underrated months of the year: November. Not only are there the post-spooky season candy sales to enjoy, but there's also Thanksgiving, and then, of course, there's Friendsgiving. What's not to love about getting together with your best friends and stuffing yourselves with all the turkey, stuffing, and pumpkin pie you can handle? Of course, a Friendsgiving meal is a little harder to pull off in reality, especially when you're trying to host a Turkey Day meal in a college dorm. Luckily, these college Friendsgiving recipes make it so easy to whip up a delicious but stress-free meal with your dorm besties.
Just the thought of trying to come up with some fancy dish to bring to Friendsgiving may make your palms sweat, but if there's one think TikTok has taught us, it's that impressive cooking doesn't have to be difficult. Just like all the delicious yet effortless recipes we discovered during realized lockdown, it's totally possible to make easy recipes for Friendsgiving that still taste amazing. So, starting right now, it's time to get past your fear of cooking and into the kitchen, just in time for your college Friendsgiving celebration.
When you show up with one (or more, if you're feeling ambitious) of these Friendsgiving recipes, you're going to have to convince your besties that yes, you did make it all by yourself. This November, shake things up a little and impress the pants off your entire college squad — but expect them to want you to cook for every gathering from here on out, as well. It's the curse of the good cook.
This article was originally published on