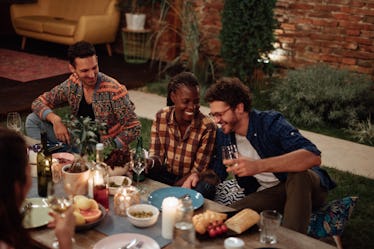 These Friendsgiving Themes Will Make Your Celebration So Special
Anchiy/E+/Getty Images
Friendsgiving is a fun and wholesome way to spend time with the people who aren't officially your family but are definitely your people. It's a day to celebrate with your besties and remember just how thankful you all are for each other. But if you've been doing traditional Friendsgivings for a while now, or maybe just want to throw a particularly special one for the first time, you can get creative by enjoying these Friendsgiving theme ideas that are stuffed with Instagrammable joy.
Friendsgiving feast with your besties back home, gobble up a yummy dinner with your roommates, or do a combination of both. Planning a great Friendsgiving theme to go along with your turkey, stuffing, and pie is always a great idea to get everyone involved — even if you're coordinating a virtual celebration. Whether you work together to create a fun menu or bring on the festive cheer with fuzzy slippers and coordinating pajamas, think of this special day as a celebration where your creativity can really shine.
Whether your squad is looking to try something new for Friendsgiving or you're throwing one with your besties for the first time, the most important thing is being able to spend time with your closest pals and have a good time. So, get excited about these 11 Friendsgiving theme ideas: All you need to do is set the table, send out the invites, and prepare for a fun Friendsgiving everyone will be thankful for this year and beyond.
The CDC recommends traveling only after you're fully vaccinated and your vaccine has become fully effective. If you're not fully vaccinated and must travel, check the CDC guidelines before you book. Check your destination's vaccination and testing requirements before you depart.
This article was originally published on