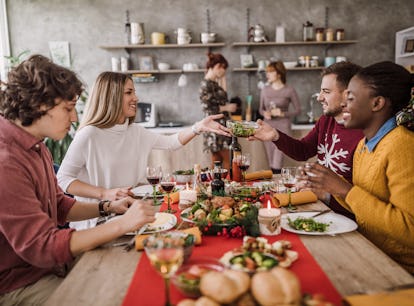 10 Tips For Hosting Friendsgiving In Your First Apartment Like A Real Adult
It's sure to be a gourd time.
Pekic/E+/Getty Images
The word around the block is that you're officially moved into your first apartment. Your coats and boots are in the closets, your kitchen is fully unpacked, and you're finally ready to have your besties over. If you're ready to host Friendsgiving like a real adult, these tips will make having people over at your apartment for dinner go as smoothly as possible.
Most nights when you have friends over, it's pretty easy to DoorDash your favorite meal and watch a movie. There are no charcuterie boards, casseroles, or place settings required, and let's be real: no one is dressing up to come over for movie night. That's all well and good, but hosting a Friendsgiving dinner at your apartment can be a special adventure and a great way to learn valuable lessons about #adulting.
Being a beginner in the hosting and cooking game means you get to learn how to properly lay out appetizers for your guests, or coordinate a potluck with your BFFs. You get to try out different utensils, serving dishes, and pans in your new kitchen, and invest in some entertaining essentials. Read through these tips before you host Friendsgiving in your first apartment and you'll be good to go. (Spoiler: It's not as hard as you may think.)
This article was originally published on