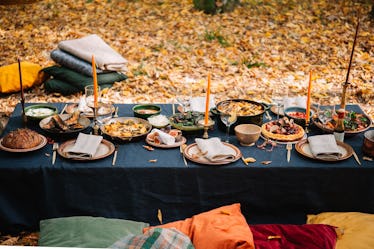 Here's What You Should Bring To Friendsgiving This Year, Based On Your Zodiac Sign
Thanksgiving is everything. It's a perfect combination of the crisp fall weather, and a hearty family meal. It's love, gratitude, and harvest riches, literally. Friendsgiving is also a must, and I'm going to reveal what you should bring to Friendsgiving, based on your zodiac sign. Not to worry, Virgo. I know you already ran to the supermarket, and bought everything you need for your secret recipe. If anything, I should be more concerned about our good friend Sagittarius, because we all know the procrastination is next level. Libra, on the other hand, is probably going to host this year's epic gathering, so make sure you dress to impress.
Before I forget, Mercury stations retrograde in Sagittarius tomorrow on Nov. 16, so make sure you pay close attention to logistics. Last minute changes, online orders, and all types of communication in general, will be delayed through the beginning of December. Although, I'm pretty sure you've already experienced these Mercury retro effects first hand. On a brighter note, however, Venus stations direct tomorrow, so don't be afraid to head to the salon for a new look. Given that Venus spearheads all things related to one's beauty regimen, staying away from hair salons, plastic surgery, and makeovers in general, is always suggested while the planet of love is retrograde.
Nevertheless, here's what you should bring to Friendsgiving 2018, according to your zodiac sign:
Aries: Spicy Green Bean Casserole
You're always game for anything spicy, Aries. Plus, this dish takes a whopping 15 minutes to bake, and well, we all know you don't have the time or patience to cook anything that takes much longer.
Taurus: Apple Pie
There's nothing you love more than a scrumptious dessert, and the sweeter the better, of course. Apple pie is always an option, but nothing beats your lush AF homemade recipe. Tasty is an understatement.
Gemini: Turkey Gravy
Gravy is not even a question, and the best part is, it's no hassle. It's quick, versatile, and saucy AF, just like you. Just make sure to pack it in a festive gravy pitcher, and you're good to go!
Cancer: Mashed Potatoes
What's Thanksgiving dinner without some warm and buttery mashed potatoes? This is the best type of comfort food, and if there's anyone who knows that home is where the heart is, it's you.
Leo: Wine
Adorable? Yes. Domestic? Not so much. Besides, what's the point in Friendsgiving if you can't have a little buzz? I'm kidding, but you know what I mean. You always bring the party, Leo.
Virgo: Corn Casserole
The queen of the harvest has arrived, and everyone knows you've got a secret recipe up your sleeve. Corn is a must-have for any Thanksgiving dinner, and you like to go the extra mile as per usual.
Libra: You're Hosting Friendsgiving
Roll out the red carpet. Your ruling planet Venus is finally direct, and you're back to your old ways. Are you ready to host the best Friendsgiving ever? Champagne will be chilled.
Scorpio: Cornbread
You want what you want, when you want it, and corn bread is one of your top faves. You also have a very particular way of cooking it, and you much rather be in control.
Sagittarius: Cranberry Sauce
Gemini called dibs on the gravy, so your best option is the cranberry sauce. Knowing you, you'll probably have to make a pit stop at the grocery store on the way. Nevertheless, this deliciousness will be ready in no time.
Capricorn: Turkey
You like to keep things traditional, but you also enjoy showing off in the process. Friendsgiving turkey, anyone? You would think your Libra host has it covered, but you love the idea of slaving away in the kitchen, and watching the clock for long periods of time.
Aquarius: Stuffing
Who doesn't enjoy a little stuffing? Obviously, no one's complaining, but you still have a point to prove, as per usual. Homemade or instant? Make sure your friends see the evidence first hand.
Pisces: Decorations
Your Friendsgiving host will insist that you bring food, but the truth is, you've got your own set of Thanksgiving centerpieces, and they're quite interesting, to say the least.