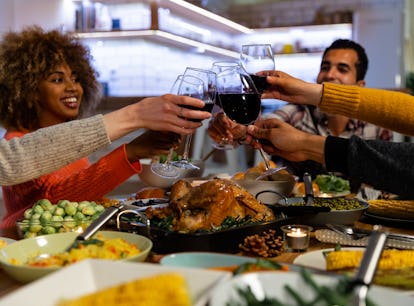 13 Friendsgiving Party Ideas That Are Simple And Instagram-Perfect
Host a gathering none of your friends will forget.
Shutterstock
Whether or not you celebrate the Thanksgiving holiday, there's no reason not to have a special night dedicated to your amazing friendships and the people who make them possible. Friendsgiving is a relatively new tradition, and the world is loving it. Not only is it a time to gather for one heck of a delicious meal with your besties, but it's an ample opportunity to throw the holiday party of the year that your friends will not soon forget. It's time to pull out all the stops with decor, food, and games.
Luckily, Pinterest is filled to the brim with endless Friendsgiving party ideas for your dinner party. You can find ideas for all of your recipes, decor, and anything else you may need, but you don't have to do it all yourself. Friendsgiving is all about friendship and giving, so your friends will be sure to give you a hand in putting the big day together — which can double as a bonus Friendsgiving activity.
If you're hosting a Friendsgiving dinner this year, you may want to take a look at these Friendsgiving party ideas so you'll have the time of your lives. You and your buds will eat, drink, and be merry, and before you know it, you'll make some of the most precious memories you'll ever have together. And it's all thanks to you and your amazing party planning skills. Be warned, though — your party will be a hit, so you'll probably get asked to host again next year. From decor to music to food, here are eight Friendsgiving party ideas that are super simple and Instagram-perfect.
The CDC recommends traveling only after you're fully vaccinated and your vaccine has become fully effective. If you're not fully vaccinated and must travel, check the CDC guidelines before you book. Check your destination's vaccination and testing requirements before you depart.
This article was originally published on