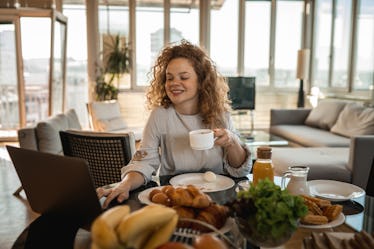 Here's How To Host A Virtual Friendsgiving That'll Go Down As Yam-azing
freemixer/E+/Getty Images
We're only weeks away from one of the yummiest days of the year, which means you're probably trying to organize a Friendsgiving plan. You know that your BFF "gathering" will be quite different this year, due to the ongoing pandemic. However, you're totally ready and excited to learn how to host a virtual Friendsgiving from the safety of your home that'll go down in the books as yam-azing.
There's only one tiny detail standing in your way: How do you learn such a thing? Do you download a bunch of apps that allow you to play games with your friends no matter where they are in the world? Do you send a basket of goodies to their homes with Thanksgiving-themed Bingo cards and supplies for making an apple pie? Truth be told, there's no one right way to host a virtual Friendsgiving. As the host, picture what your friends would enjoy the most, between an online baking class, and a chill catch-up session where everyone brings their own wine.
Below are a few different routes you can take, and types of virtual Friendsgivings you can hold, so your event thrives. Peruse the options, get your besties' opinions on them if you'd like, and then get to planning a Friendsgiving that's filled with fun and cranberry good times.