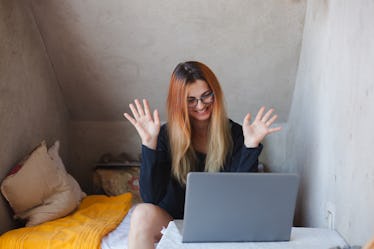 Here's How To Host A Virtual Scavenger Hunt When You Can't Hang Out IRL
Wild spirit shoot/E+/Getty Images
Virtual games are a great way to bond with your friends when you aren't hanging out together IRL. If you're ready to try something outside of the box, consider gathering your crew over video chat for a remote scavenger hunt. Here's exactly how to host a virtual scavenger hunt with your friends to switch up game night.
Just because you and your friends can't be together in the same place for a game night, doesn't mean you can't still have some fun. You can join a video call and host a virtual game night, with plenty of games. One easy way to get everyone in on the action is with a virtual scavenger hunt — it'll play out similarly to an IRL hunt and doesn't require much setup. The scavenger hunt will have you and your friends racing against the clock to find as many items on the list as possible, before the time is up. You'll only need a few things to get started.
Pick a date and time to hold the scavenger hunt.
As the host, you'll be in charge of planning out the event, so invite your friends and decide on a date and time for the scavenger hunt. All you need to get going is a computer or cell phone to video call with, a reliable internet connection, and some pen, paper, and a scavenger hunt list.
For a group video call like this, you can use any video conferencing platform, such as Zoom, Google Hangouts, or Skype.
Create a scavenger hunt list.
The best way to customize a scavenger hunt is to create a list of your own. You may find printable sheets available on the internet, but since this is an indoor scavenger hunt, you might find it easier to take a few ideas and make them your own. Your virtual scavenger hunt list can include anything you'd like, but you'll want to focus on items that you might see lying around your apartment, like certain pieces of clothing, trinkets, or accessories. If you want to make it as challenging as possible, choose items that are very specific, such as items with certain colors, prints, or brands.
After you've made the list, make sure everyone has a copy of it by sending the file to your friends via email. There, they can print it or save it to their phone.
Decide on the rules.
A basic scavenger hunt gives you a set amount of time to find all the items on your list. Whoever has the most items by the end of that time wins the game. You may choose to add in additional rules or time limits to make the hunt more challenging. For instance, you can set a time limit for each individual item on the list if you'd like, or come up with your own rules to incorporate.
Choose a time limit for the event.
You'll want to choose a total time limit for your scavenger hunt. It can be as long or as short as you'd like. The shorter the time limit, the more challenging the hunt will be.
If you're using Zoom, you'll want to keep in mind that the free option on Zoom has a time limit of 40 minutes for a group video chat with three or more people. So, unless you are using a paid Zoom plan with unlimited group chatting (which starts at $14.99 a month), you may want to base your scavenger hunt time limit off of this. You can also host the hunt in multiple meeting sessions with Zoom, if necessary.
Start the virtual scavenger hunt.
Once you've got everything prepared, on the day of the event, have everyone log into your chosen chatting platform as scheduled. Zoom has an option to schedule the meeting ahead of time if you'd like.
Decide if you're going to have a designated scorekeeper or have everyone tally up their points at the end, set a timer on your computer or phone, and get to searching. You can have people take pictures of the items to send to one person, or you can decide that everyone needs to round up the items and physically show them off on the video chat.
When the timer goes off, tally up the points and see who won. It's really pretty simply to take an outdoor scavenger inside, so play around with some preset lists, and get ready to put your friends to the test on game night.