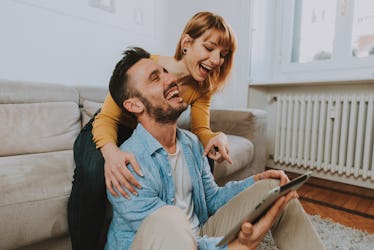 15 Easy & Fun Indoor Scavenger Hunt Ideas To Do With Your SO
Fabio Formaggio / EyeEm/EyeEm/Getty Images
It's about time you plan an exciting indoor date inspired by your favorite summer camp activity: a scavenger hunt. This activity is perfect for rainy days when you have a ton of energy but don't want to step outside, or when you're bored at home. To begin, look into the indoor scavenger hunt ideas to do with your partner that are so easy to recreate.
Get ready to have some fun with the person you love and even dig up some old memories. These scavenger hunt ideas will bring you to the boxes in the back of your closet where you have pictures from your first date stashed away, or the drawers in the kitchen where there are ticket stubs from Jonas Brothers and blink-182 shows laying around. They'll have you wearing matching crewnecks from past beach vacations, and taking selfies with your pup in the backyard. The best part is these ideas can all be recreated right in your home and will speak to your competitive and loving souls.
After you look into them a little more, open your laptop or phone and jot the list of items you need to hunt for down. Give a copy to your SO, and put on your comfiest looks. Once you're both ready and have your game faces on, let the indoor scanvenger hunt begin.