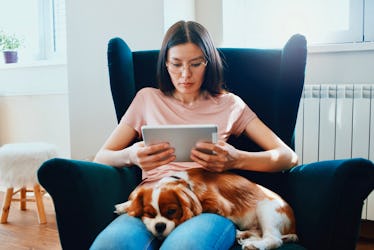 12 Doggone Adorable IG Story Filters You Should Try With Your Pet
DaniloAndjus/E+/Getty Images
It's about time that your pet made an appearance on your Instagram. In the past, you may have posted pics on your feed of your pup in your backyard or your cat taking a nap. But, your followers are begging for even more #content. Enter, the trendiest and best Instagram story filters for pets on the app. Like your pet, these filters are doggone adorable.
They'll turn your dog into a palette of glitter, or bring your endless heart eyes to life. When you try out each of these filters, you'll instantly feel the need to say, "Aww," or laugh with your siblings who are chilling in the background with a treat. After tapping the camera button, and then the "share" button, you'll be treated to all sorts of messages in your DMs — from people gushing over your pet and how cute they look.
Your followers will comment on how hilarious your lizard appears with a thought bubble over their head, or might even ask where you found that high-quality story filter. Feel free to send these 12 Instagram story filters for pets their way, along with any tips you have for using them. (It might be tricky to get your golden doodle to strike a pose, you know?) Then, keep on posting your own doggone adorable content.