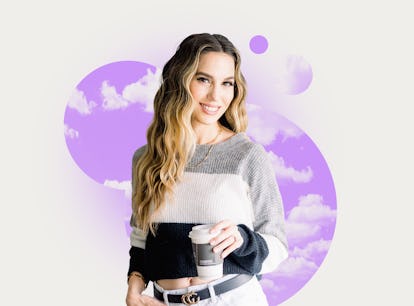 Christy Carlson Romano Wants A More Structured Self-Care Routine
You have to call her or beep her, because the Disney alum is always on the go.
Elite Daily; Courtesy of Christy Carlson Romano
We may receive a portion of sales if you purchase a product through a link in this article.
Real talk: Anyone who grew up in the early 2000s either wanted to be a Disney Channel star or be friends with one. Of Disney's it girls of the aughts, Christy Carlson Romano was everywhere. Not only did she star as overachiever Ren Stevens in Even Stevens, but she also butted heads with Hilary Duff in Cadet Kelly and saved the world as Kim Possible. She basically carried the Disney Channel on her back as a child star. But things weren't as easy as they seemed between "studying for the SATs, doing Kim Possible on the weekends, and filming Even Stevens during the week." Romano tells Elite Daily prioritizing self-care habits like getting regular facials to help with breakouts and spa visits became a must amidst her jam-packed schedule.
Now that Romano is a mom, hosts Vulnerable With Christy Carlson Romano (a podcast where she gets real in conversations with influencers and other former Disney stars), and is a content creator sharing nostalgic TikToks for fans, the busy 39-year-old is more like her on-the-go character Kim Possible. She doesn't have time to take baths (which she loves) when she needs a pick-me-up. Instead, she turns to convenient wellness essentials like Emergen-C Crystals, which she's recently collabed with. The new vitamin C packets, similar to nostalgic wellness Pop Rocks that aim to boost your immune system without water, are a staple in Romano's bag. They're a must, especially now that Romano, who moved to Austin, Texas, in the middle of the pandemic, often travels to cities like Los Angeles and New York City for work.
Below, the actor shares other must-have items she has with her at all times, the skin care routine that keeps her looking like Ren Stevens, and a new podcast she can't wait to launch with a fellow Disney star.
This interview has been condensed and edited for clarity.
Elite Daily: What are three wellness must-haves that you have in your bag?
Christy Carlson Romano: Hand sanitizer. Alcohol wipes to either wipe down surfaces or wipe down my phone, because even my phone gets germy and dirty. And when I travel, I have the Emergen-C Crystals in my to-go purse.
ED: What made you want to team up with Emergen-C?
CCR: I've used the brand for immune support since I was on the set of Even Stevens. These new crystals are really wonderful for an active lifestyle, because you don't need water to take them.
ED: What's something you've learned about self-care as someone who's so busy?
CCR: I do things that maintain my energy levels more consistently throughout the day, because I think that the ups and the downs are really not sustainable for any one of us. They affect your mental health and your work ethic. Self-care is not just taking a bath, even though I really do love taking baths. Self-care is your regimen, and I've never really truly had structure. I've always had an on-the-go lifestyle.
ED: That's funny because you seem like you have it all together.
CCR: It's not that I dislike structure. In fact, I'm very much wanting it, and the desire is there.
ED: On those extra busy days, how do you manage any stress that you have?
CCR: To be honest, I cope by shopping online and also using social media to calm myself down. Those are bad habits that I don't suggest to other people. But in general, I would say that breathing techniques are something that if I really need them, I know I have them in my back pocket. Breathing helps so much with slowing your heart rate down, creating an awareness of the present moment. It's just looking around and being like "I'm OK; everything's OK" and living in the moment.
ED: When you're scrolling on TikTok, are there any things that you've been influenced to buy?
CCR: So many things, and actually, I haven't had a negative experience so far with anything that I've been influenced to buy from TikTok, like cheap gold jewelry, specifically. Social media is a marketplace for folks to share products, and I've had a good experience with influencers. Sometimes I wonder why content creators get such a bad rap. It can be a little dicey with the algorithmic game that people play. Millennials have viewed someone doing sponsorships as being a sellout. Gen Z still cares about that, but they care more about the authenticity of a content creator and if the product is something that they actually use.
ED: What side of TikTok are you on right now?
CCR: I'm on millennial age-defying TikTok, and Bethenny Frankel talking about Prada. I have a lot of millennial humor folks that are friends of mine, like Charles Brockman III and Rod. It's really fun to see the way that they're reacting to some of my work and my friends' work, and they give it new life.
ED: You've mentioned the demands and challenges that came from being a child star. What advice would you give to young people who want to be actors and content creators in regard to minding their mental health?
CCR: The benefit of social media is that you can green-light yourself. When you're growing up having constant rejection in Hollywood, you kind of lose sight of your self-worth over time. I think it becomes sort of a chronic pain that you try to treat in different various ways — some positive, some negative. On the flip side, content creators have their own agency. I think that's a wonderful way for them to understand their worth, their brand, their fan base, and grow that for themselves. There are a lot of positives in being your own production company and your own boss in that regard. Creators also have a lot of stress on them, but the chronic pain that I feel as a content creator is a lot less than the chronic pain of the indecision and unknowing of Hollywood.
ED: On your podcast Vulnerable, you've talked to a lot of former Disney Channel stars about their experience. Are there any dream guests that you like to get?
CCR: Actually, I have a dream podcast with Anneliese van der Pol [from That's So Raven] that comes out on Aug. 24 called Big Name B*tches — because both our names are so long. We both grew up together in the Disney world, and it's a vibe because we're just being rowdy ladies.
Vulnerable has become such a serious and important podcast over time. I've had the privilege of having some really important conversations with wonderful people, but I've started to feel the impact of that as a content creator. So, I feel like launching Big Name B*tches was an act of self-care as a content creator to kind of balance the heaviness with something that's going to feel really light and fun.
ED: I'm excited to hear it. Speaking of your Disney Channel days, you look exactly the same! Walk me through your current skin care routine.
CCR: I've been blessed, I think genetically, to kind of have a face structure and a skin tone that's been fighting aging. But SPF is one of those things that I've just recently started integrating at 39, and I wish I would've done it through my 20s. Now I have melasma, but that's something that I can cover. For the daytime, I double cleanse with a glycolic wash and then a more gentle wash. And then I'll tone with Pixi Glow Tonic, use a Neocutis serum with stem cells in it, and do something from Skinbetter that's a tone-evener for my melasma. From there, I use an age-defying Paula's Choice SPF.
Nighttime's similar in that I just swap out vitamin C for retinol, and that's it. Retinol has been really, really helpful for me. I also get lasers, microneedling, monthly facials, and a HydraFacial mixed with dermaplaning. I've always really enjoyed going to a spa. I think in a dream world, I would open a spa, but I feel like that's very far off. I'm still in the podcast game.