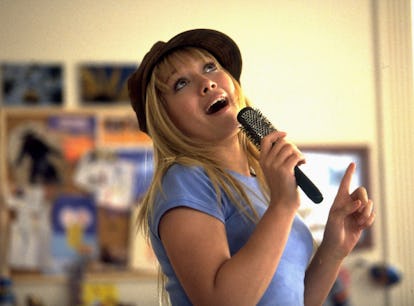 Disney Channel High-Key Perfected The Art Of The Musical Episode
Thank you, Ren Stevens, for teaching me when the moon landing happened.
Disney
Looking back, it's easy to see why so many former Disney Channel stars became chart-topping singers. The network has always been packed with musical talent, and some of the most memorable episodes of Disney Channel shows are the ones where that song-and-dance expertise is on full display. Every kid who grew up in the 2000s remembers when Even Stevens put on a full musical production, or when Lizzie McGuire made that music video with Miranda. Thankfully, you can relive of the magic of Disney Channel's best musical episodes whenever you want, since they're streaming on Disney+.
Music has always been a big part of Disney Channel's success. Musical series like Hannah Montana and Austin & Ally dropped new songs practically every episode, and even the channel's more standard sitcoms would often feature at least one music-centric episode. But the best moments were when the shows turned an episode into a full-blown musical. The catchy songs and dance moves are still lodged into the brains of every Y2K kid, but of course, some are better than others. Now it's finally time to rank the very best musical episodes Disney Channel ever produced, starting with one that just didn't quite live up to the hype.
8. The Suite Life of Zack and Cody: "Lip Synchin' in the Rain"
Having the Suite Life of Zack and Cody cast remake High School Musical for the stage was a stroke of crossover genius. However, this episode is more memorable for all the jokes about Maddie (Ashley Tisdale) not getting cast as Sharpay than for its music. We do get to hear Tisdale sing "Bop to the Top," but it's not exactly anything new.
7. Kim Possible: "Hidden Talent"
There's nothing Kim Possible can't do, including singing a totally catchy song. Just when you thought the Kim Possible theme song couldn't be topped, the talent show episode of the series gave Christy Carlson Romano the mic to sing "Say the Word."
6. Wizards of Waverly Place: "Make It Happen"
The magic of Wizards of Waverly Place could only be matched by the music. Strangely, pop star Selena Gomez didn't show off her singing voice in most episodes of the show, which made her performance of "Make It Happen" extra special.
5. Lizzie McGuire: "Inner Beauty"
"Inner Beauty" is one of the most well-remembered episodes of Lizzie McGuire, and that's partly because of how iconic the music video at the end turned out to be. The whole episode revolved around Lizzie and Miranda starring in Gordo's music video, so naturally their choreographed dance in the clip became everyone's go-to moves in the early aughts. Plus, "Us Against the World" is a total bop.
4. The Proud Family: "A Star Is Scorned"
Don't sleep on The Proud Family when it comes to amazing music. Destiny's Child and Solange Knowles did sing the theme song, after all! So it should be no surprise that the show's musical episodes slaps. Penny, Dijonay, LaCienega, and Zoey's girl group song "Best Friends" is cute, but it's not until Penny goes solo that the real banger arrives: a diva anthem that perfectly captures a '90s R&B sound.
3. Phil of the Future: "My Way"
She may have built her music career with her sister, but Aly Michalka proved she can rock the mic on her own as well in her standout episode of Phil of the Future. Her performance of "Protecting Me" started out a bit rocky due to Keely's stage fright, but once she found her confidence, she delivered one of the best musical numbers ever shown on Disney Channel.
2. Even Stevens: "Influenza: The Musical"
You knew this was coming. Even Stevens pulled out all the stops to make one of the most iconic musical episodes of TV ever. From foreboding bangers like "Sixth Period" to Louis' jaunty ditty "I Always Find a Way," the whole episode is basically Broadway-ready. But of course, the real standout is Ren's barely-educational belter "We Went to the Moon (in 1969)," which ensured an entire generation would never forget the year the moon landing took place.
1.That's So Raven: "The Road to Audition"
The Even Stevens musical may be iconic, but is just didn't have the bops that the That's So Raven musical episode had. When an undercover talent scout came to Raven's school, she and her friends jumped through every musical genre to impress them. Eddie's rap, Raven's pop star moment, and even the one-episode mean girl Jasmine's theatrical moment all hit the right notes, but it's Chelsea's big Broadway number "Alone in the Hallways" that really put this episode over the top.
Don't have Disney+ yet? You can sign up here.