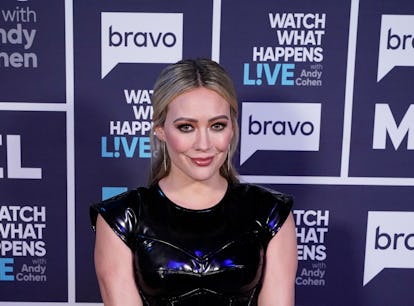 Hilary Is Still "Optimistic" Her Lizzie McGuire Reboot Will Happen
She's still figuring it out on the way.
Bravo/NBCUniversal/Getty Images
Hilary Duff may not have the picture-perfect plan for bringing Lizzie McGuire back to TV screens, but she's getting one step closer each and every day. Although the planned Disney+ reboot was officially canceled at the end of 2020, McGuire shared that she's still optimistic it will see the light of day more than two years later. While appearing on Watch What Happens Live, Hilary Duff gave a 2023 update on the Lizzie McGuire reboot, and confirmed she hasn't given up on it yet.
The revival series of Lizzie McGuire was first announced by Disney+ in 2019, with plans to bring back the main cast of the beloved early 2000s sitcom to catch up with Lizzie as a 30-year-old figuring out life in New York City. However, the production was infamously hit with several setbacks, not only due to the global lockdown in 2020 but also Lizzie McGuire showrunner Terri Minsky departing from the series, with Disney+ reps releasing a statement that the series needed to "move in a different creative direction." Finally, on Dec. 16, 2020, Duff confirmed the revival had been officially canceled.
Despite the cancellation, Duff is still confident Lizzie will get her second life. When asked if she'd still be interested in making a Lizzie McGuire reboot during her Jan. 26 appearance on Watch What Happens Live, Duff gave an enthusiastic response: "Of course." She then explained how Disney+'s newness in 2019 and 2020 may have affected the revival's premature cancellation. "Disney+ was very new," Duff said. "And I think they were figuring out their [thing], and we were figuring out our [thing]. I am optimistic."
As Duff alluded to, Disney+ wasn't even launched when the Lizzie McGuire revival was announced in August 2019. The streamer went online three months later, and as the reboot series flailed in production holds throughout 2020, Duff hinted at why there was so much drama in bringing Lizzie back. In March 2020, Duff posted a note begging Disney to move the show from Disney+ to Hulu, implying that Disney+ was not supportive of the series taking a more adult approach to portraying Lizzie.
"I'd be doing a disservice to everyone by limiting the realities of a 30-year-old's journey to live under the ceiling of a PG rating," Duff wrote. "It's important to me that just as her experiences as a preteen/teenager navigating life were authentic, her next chapters are equally as real and relatable. It would be a dream if Disney would let us move the show to Hulu, if they were interested, and I could bring this beloved character to life again."
The reboot's pilot reportedly centered on a cheating scandal.
In the years since the Lizzie McGuire reboot got the ax, Disney+ has started to add some R-rated movies, including Deadpool and Logan. Now, only time will tell if the streamer decides to give Lizzie McGuire another chance, but at least Duff sounds optimistic about the whole thing.