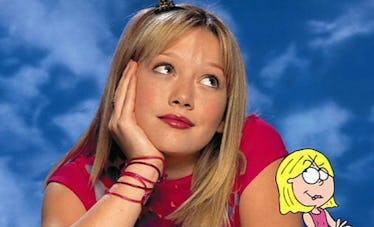 The 'Lizzie McGuire' Reboot's Pilot Script May Reveal Why It Was Put On Hold
Disney
Lizzie McGuire isn't a kid anymore, and that may be the reason why the iconic Disney show's reboot is hitting roadblocks. Months after Disney+ announced a Lizzie McGuire sequel series at the end of 2019, production shut down after showrunner Terri Minsky parted ways with the show, citing creative differences. Shortly after that, Hilary Duff made a public plea to Disney+ to move the halted series to Hulu, confirming the more adult themes of the reboot were an issue for Disney. Now, reports of the Lizzie McGuire reboot's pilot script reveal what that first episode would have been about, and may shed further light no why the reboot is on hiatus.
In a new profile on Disney+, The Hollywood Reporter claimed to have had access to the script for the first episode of the Lizzie McGuire reboot. Apparently, it centered on a cheating scandal and acknowledged the existence of sex, which likely caused issues with Disney+, since the new streaming service is devoted to producing "family friendly" content. THR didn't go into details about the plot of the pilot episode, but since fans already know Lizzie started the new series with a fiancé and that Adam Lamberg reprised his role as Gordo, I think it is safe to assume either Lizzie's fiancé was caught cheating on her, or maybe Lizzie cheated on him. Either way, breaking off Lizzie's engagement right away would open up the will-they-won't-they relationship between her and Gordo that was such a huge part of the original series.
Unfortunately, it is still up in the air whether fans will get to see this version (or any version, for that matter) of the Lizzie McGuire reboot. Production on the series halted in January after only two episodes had been filmed. A little over a month later, Duff posted a note on Instagram detailing the issues with making the reboot for Disney+, writing, "I'd be doing a disservice to everyone by limiting the realities of a 30-year-old's journey to live under the ceiling of a PG rating."
Duff ended the note with a plea for Disney to move the reboot over to Hulu, a move the studio had previously done for High Fidelity and the Love, Simon spinoff series Love, Victor. Both of those series had reportedly been moved from Disney+ to Hulu over similar concerns surrounding mature content.
Since Lizzie McGuire's production is currently halted indefinitely, the reboot's future is still in limbo. But it does sound like there are two possible futures for the series if it does move forward: Either the version that kicks off with a cheating scandal will get the go-ahead to air on Hulu, or a sanitized version of the show more similar to the original series will be made for Disney+. Let's just hope fans get the chance to see Lizzie again after all this drama is over.