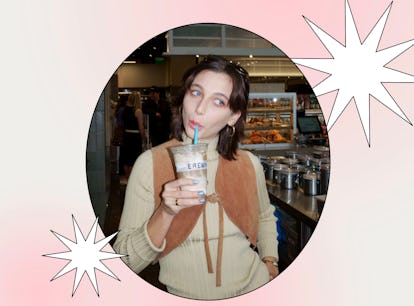 I Tried Chamberlain Coffee's Erewhon Smoothie & It Was Surprising
The $19 sip isn't giving "but first, coffee" energy.
Bobby Escobedo/Elite Daily
It seems like it was only a matter of time before Chamberlain Coffee collaborated with Erewhon to create its own cold brew smoothie. Erewhon has become known for its smoothie collabs with celebs like Hailey Bieber and Bella Hadid, and adding content creator Emma Chamberlain into the mix with her fan-fave coffee brand just makes sense. As a lover of both Chamberlain Coffee and trying out the latest viral Erewhon smoothie, I had to try Emma's Cold Brew Cookie Smoothie for myself.
If you're someone who prefers a Frappuccino over a fruity smoothie, this is definitely the Erewhon drink to try. Emma's Cold Brew Cookie Smoothie obviously has her Chamberlain Coffee as a main ingredient, but there is so much more added to the mix as well. The Chamberlain Coffee Erewhon smoothie is a blend of:
Califia Farms Organic Almond Milk
Chamberlain Coffee's Fancy Mouse Espresso Blend
Mikuna Vanilla Protein Powder
Zuma Valley Coconut Cream
Simple Mills Chocolate Brownie Sweet Thins
Sakara Beauty Drops
Raspberries
Cacao
Dates
Sea Salt
Banana
Toffee Stevia
Coconut Meat
Vanilla
Lucuma
Tocos
Maca
Cacao Nibs
Almond Butter
Maple Syrup
Ingredients like the Beauty Drops and tocos are great for your skin, so this smoothie has some beauty benefits along with providing a daily boost of caffeine that coffee lovers will appreciate. Of course, a smoothie packed with this much stuff is expensive. Similar to other Erewhon smoothies, Emma's Cold Brew Cookie Smoothie is $19 and not something you'll want to order every day. However, you do want to order it ASAP if you are a fan.
The Chamberlain Coffee Erewhon drink is only available for a limited time, from now until July 15. For every purchase, Erewhon will be donating $2 to Food 4 Farmers, so you can think of your smoothie as just $17 with a donation to help coffee-farming families. That's still a bit pricey, so it all comes down to taste and if it's worth the splurge.
Emma's Cold Brew Cookie Smoothie Review
While it may not be the most colorful Erewhon smoothie, Emma's Cold Brew Cookie Smoothie definitely looks delectable. The coffee and chocolate make this smoothie look like a dessert, but you have to remember that at the end of the day, it's a healthy smoothie. I was reminded of that fact with my first sip, which had much more banana flavor more notes of cold brew. It was also very texturized with the coconut and cacao nibs, so if you prefer a creamy smoothie, this may not be the one for you.
After having to remind myself this is an Erewhon smoothie and not a milkshake from my local diner, I started to really enjoy it. It reminded me of a banana mocha smoothie I loved ordering as a kid on vacation. If you're not a fan of banana, you may be thrown off by how strong it comes through in each sip. Surprisingly for a Chamberlain Coffee Erewhon smoothie, the actual cold brew taste was very subtle. I really wanted it to have main character energy, but looking for the coffee flavor felt more like searching for easter eggs in a sea of coconut and banana.
It's also not very sweet, which is actually Chamberlain's preference. When developing her ready-to-drink line of Chamberlain Coffee lattes, the 22-year-old previously told Elite Daily, "I wanted the drinks to taste flavored, and have the essence of their flavor, but still taste high-quality, premium, and not overly sweet." Chamberlain's Erewhon smoothie definitely has that premium taste she prefers, which isn't too in-your-face with the sugar.
While my expectations might have been too high for this collab, I still enjoyed my drink till the very end. For delivery on a Cold Brew Cookie, I would rate this smoothie a 2 out of 5. However, on overall taste, I would give the Chamberlain Coffee Erewhon smoothie a solid 4 out of 5. I think it's just as good as Hailey Bieber's Strawberry Glaze smoothie. Ultimately, it may not be what I envisioned in my head, but I would still order this again — if someone gave me $10 to help pay for it.