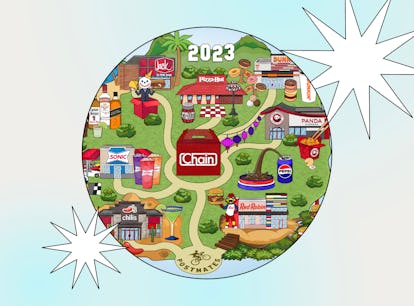 This Chain Restaurant Food Fest Includes Eats From Dunkin' & More
The all-inclusive tickets are already selling out.
Chain/Elite Daily
Instead of going to a music festival to see different artists perform, what if you were able to attend a food festival where all your favorite chain restaurants were serving up something delicious? This year, that foodie dream come true is becoming a reality at ChainFEST in Los Angeles. The "world's first gourmet chain food festival" is a three-day event happening this December, and tickets for the all-food-inclusive pop-up are already going fast.
There's nothing sweeter than the word "inclusive," especially when it means you can enjoy menu items from restaurants like Chili's, Dunkin', and Red Robin for the price of entry. In addition to exclusive menu items that you can't find on the menu at these restaurants, you'll also be able to buy limited-edition merch at the event.
This nostalgic fest comes from Chain, a concept restaurant that was created by The Office's B.J. Novak and Chef Tim Hollingsworth, a James Beard Foundation's Rising Chef of the Year Award winner, in 2021.
"Last year, when Chain was just a pop-up in a parking lot, it was clear to us that this concept resonated with a great many people," Nicholas Kraft, the co-founder and EVP of Chain, tells Elite Daily. "Seeing ChainFEST sell out in a matter of hours really speaks to the fervor for chain food and culture."
In the past, Chain has put together viral events, like the Scream-themed, McDonald's-inspired Stabby meal pop-up, and ChainFEST is likely to be just as Insta-worthy (and delicious).
If you're someone who has FOMF (fear of missing food), you'll want to get your ticket ASAP. The food convention, which will also have games, activities, and surprises for guests, is taking over Nya Studios (1541 N Cahuenga Blvd) in Hollywood the first weekend in December, from Friday Dec. 1 to Sunday Dec. 3. While single day tickets for ChainFEST 2023 are $75 each, only Sunday tickets are still available.
Each ticket has a time window that varies from day to day. You can arrive any time within your ticketed window, but you'll want to get there as early as possible, because once your session is over, you'll be asked to leave ahead of the next ticket time. The ticket times are the following:
Friday Dec. 1 from 8 p.m. to 11 p.m.
Saturday Dec. 2 from 4 p.m. to 7 p.m.
Saturday Dec. 2 from 8 p.m. to 11 p.m.
Sunday Dec. 3 from 12 p.m. to 3 p.m.
Sunday Dec. 3 from 4 p.m. to 7 p.m.
Restaurants At ChainFEST Include Jack In The Box & Pizza Hut
The food festival is meant to be a mix of cuisine and nostalgia with brands like Panda Express, SONIC Drive-In, Chili's, Dunkin', Jack in the Box, Pizza Hut, and Red Robin. Each of these brands will be working with Hollingsworth to serve up a "reimagination of iconic menu items." Chain hasn't announced what these exclusive items will be just yet, but it's possible that you'll find a gourmet pizza from Pizza Hut or burger from Red Robin at ChainFEST.
Along with the food, you'll also get to drink beverages from Pepsi as well as speciality cocktails featuring Don Julio, Johnny Walker, Smirnoff, and Captain Morgan (if you're 21 and up). So, be sure to bring your appetite to ChainFEST 2023.