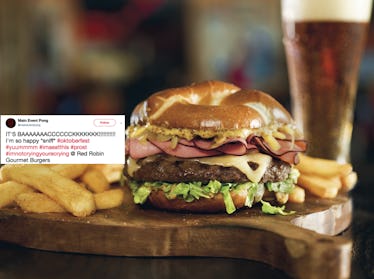 Twitter Is Seriously Hype Over This Red Robin Burger Returning To The Menu
If you were looking for the hottest take known to mankind, here it is: October is — hands down — the single greatest food month. Tell November's Thanksgiving turkeys "I'm sorry," and give the Fourth of July's hot dogs my warmest regards. But between spooky desserts, Oktoberfest drinks, and, of course, every single fall-inspired food, October brings the best culinary creations imaginable. And if you've ever wanted to try Red Robin's Oktoberfest burger, you'll be happy to know it's finally back on the menu for the first time in years — and people on Twitter are absolutely beside themselves.
On Monday, Oct. 1, Red Robin announced the return of a former favorite, the Oktoberfest burger. This German-inspired burger is guaranteed to get autumn-lovers, Halloween enthusiasts, and beer fans ready for fall, and let me tell you, I am beyond excited. According to a press release, the Oktoberfest burger consists of a juicy, fire-grilled hamburger patty, which is topped off with ham, melted Swiss cheese, caramelized onions, shredded romaine lettuce, and, most importantly, beer mustard. It's sandwiched between two artisan pretzel buns, and it's currently available for a limited time through Oct. 31 at restaurants nationwide. Just look at it. UGH, I'm already drooling.
Seriously, I cannot resist looking at this glorious sandwich much longer. I need it in my life ASAP.
Anyway, according to the press release, Red Robin broke the hearts of Oktoberfest burger fans five years ago, when it was first discontinued. Demand for Red Robin's Oktoberfest burger kind of resurfaced, however, when Roxy Duffy, aka @redrobinrocks, started tweeting at the brand about the fall-themed sandwich. She ended up tweeting about it so frequently that the chain eventually caved in to her Oktoberfest burger demands.
Lucky for Duffy, her demands were eventually met. Yep, that's right — in a press release, Dana Benfield, Red Robin's Chief Marketing Officer, elaborated on the chain's decision to bring back the Oktoberfest burger, saying that fans were desperately requesting its return.
In the press release, Benfield said:
We've received an overwhelming number of requests to bring back The Oktoberfest burger after its initial run on the menu five years ago. We want our guests to know their requests have been heard loud and clear, and we are excited to reintroduce this German-inspired burger on an improved artisan pretzel bun that will have our guests feeling like they're celebrating from the heart of Munich.
Based on reactions from Twitter, it seems as though Duffy wasn't the only one craving the Oktoberfest burger. The rest of Twitter was all about that burger from the start.
If you happen to miss out on Red Robin's seasonal burger, though, don't sweat it — the burger chain always seems to be celebrating something new and exciting each and every month. Earlier this season on Tuesday, Sept. 18, it was National Cheeseburger Day, and Red Robin threw down like no other. The Colorado-based burger chain was offering its signature Gourmet Cheeseburger and Bottomless Steak Fries for only $5, and to partake in the deal, customers simply had to order a beverage along with their meal. Needless to say, it was a glorious meal, indeed.
If you love fall, burgers, and everything in between, Red Robin is probably where you should be this fall. Order an Oktoberfest burger and enjoy it in all its glory alongside other hungry fans, because it won't be around for long.