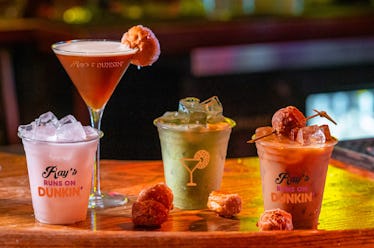 I Tried The Dunkintini, Dunkin's First-Ever Espresso Martini
Plus four other cocktails from the brand's collab with Ray's.
It looks like Dunkin' may've discovered a secret weapon among its signature products. In September, the brand released the Ice Spice Munchkins Drink, which combines the two things Dunkin' is best known for: doughnuts and coffee; the beverage is a blend of Dunkin' Frozen Coffee and Pumpkin Munchkins. The shocking part? This marked the first time Dunkin' had ever combined the two into one treat. Weeks later, the company introduced two more new beverages topped with Munchkins, including its latest star product, the Dunkintini... along with three other tasty cocktails that I simply had to try.
Ahead of the Oct. 20 opening of the Ray's Runs on Dunkin' pop-up event in New York City, I got to sample the Dunkintini, Dunkin's first-ever espresso martini, as well as the rest of the cocktail menu (the Ray-fresher, Matcha Lemon Drop, Hazelnut Freeze, and Drunkin' Pum'kin, which is the other Munchkin-topped beverage), at Ray's bar, a celeb-fave frequented by the likes of Gigi Hadid, Shawn Mendes, and Channing Tatum, and owned by Justin Theroux and Nicholas Braun (aka Succession's Cousin Greg). The limited-time releases — available only at the star-studded hot spot in the Lower East Side neighborhood of Manhattan for $18 each — all showcase some of Dunkin's most popular sips, making them must-tries for those who are 21+ and love spiked coffee.
Though I'm not an everyday coffee drinker (as you can plainly see from my honest reviews of Starbucks' fall menu items), I am very much a Dunkin' fan. So, I was willing to put my tastebuds to work. Here are my five-word reviews of the Ray's Runs on Dunkin' lineup:
Dunkin' Dunkintini
Like a traditional espresso martini, Dunkin's combines vodka, coffee liqueur, cold brew, and simple syrup. Instead of a coffee bean garnish, though, this version's topped with a Classic Munchkin.
5-word review: Good... if you like *sweet*.
Dunkin' Ray-fresher
The fan-fave Strawberry Dragonfruit Dunkin' Refresher gets a little remix with this cocktail, combining it with Patrón tequila and hints of coconut, lime, and pineapple.
5-word review: Trix cereal meets piña colada.
Dunkin' Matcha Lemon Drop
So a Dunkin' Matcha walks into a bar... and finds itself mixed up with coconut milk, honey syrup, and a traditional lemon drop shot (Grey Goose vodka included).
5-word review: Lemon-heavy; needs more matcha.
Dunkin' Drunkin' Pum'kin
Lots of Dunkin' products work together in this one, including the brand's Cold Brew and Pumpkin Swirl. Add a little rye whiskey and ginger, top it with a Pumpkin Munchkin, and you've got a new fall fave.
5-word review: More drinks need Munchkin garnish.
Dunkin' Hazelnut Freeze
Another Cold Brew moment, but this time it's with bourbon, heavy cream, and a Dunkin' hazelnut flavor shot.
5-word review: Frozen hazelnut goodness. Big fan.
The pop-up event also includes limited-edition "Ray's Runs on Dunkin'"-emblazoned merch such as tees ($35), hats ($55), and hoodies ($65). For your chance at it all, visit Ray's from Oct. 20-Oct. 29.