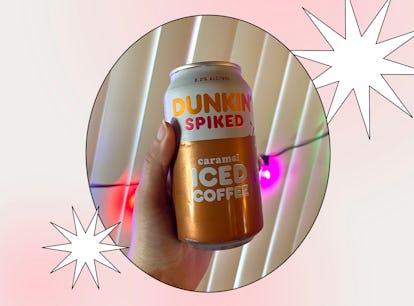 I Tried Dunkin' Spiked Iced Coffees & Teas To Find My Fave Flavor
The RTD offerings are pretty boozy, TBH.
Rachel Chapman/Elite Daily
There's no better way to start your day than with your fave cup of coffee, but Dunkin' has something new brewing for a happy hour or GNO pick-me-up — all-new Dunkin' Spiked Iced Coffees and Iced Teas. Ready-to-drink beverages like hard seltzers and alcoholic kombucha seem to be everywhere nowadays, and espresso martinis have found viral success on TikTok. So, spiked coffee from Dunkin' doesn't seem too far of a stretch, but the combo still interested me enough to try as many flavors as I could.
The new Dunkin' Spiked offerings come in two varieties — Iced Coffees and Iced Teas — with four different flavors each. The Dunkin' Spiked Iced Coffees come in Original, Caramel, Mocha, and Vanilla, while the Iced Teas are Slightly Sweet Iced Tea, Half & Half Iced Tea, Strawberry Dragonfruit Iced Tea Refresher, and Mango Pineapple Iced Tea Refresher. I was sent all eight boozy canned drinks to try, but unfortunately, the Original Iced Coffee can in my package exploded on the way to me. While I didn't get to try that one, after sipping on the rest, I think it turned out to be a blessing in disguise. For me, there's a clear winner when it comes to Dunkin' Spiked Iced Coffees versus Iced Teas, and I think you can guess which one was my favorite.
Dunkin' Spiked Iced Coffees Review
As an espresso martini fan who loves drinking iced lattes in the morning, I really wanted to enjoy the Dunkin' Spiked Iced Coffees. However, I felt the alcohol was a little too intense and stood out from the coffee flavor instead of working with it. The first one I tried was the Dunkin' Spiked Caramel Iced Coffee, which was described as having a "vibrant and smooth" taste. While I can see the vibrant, it wasn't as smooth as expected and after the initial boozy flavor, I only got the caramel notes in the aftertaste. If you're looking for a caffeine boost ahead of a girls night out, this drink will wake you right up.
I wasn't a fan of the caramel, but I thought the Dunkin' Spiked Mocha Iced Coffee and the Dunkin' Spiked Vanilla Iced Coffee were better. The vanilla was my favorite of the three, since it was much more subtle. Overall, though, I wish the coffee flavors were stronger in these drinks since that's what Dunkin' specializes in. Instead of being the main character, the coffee felt like a guest star to the alcohol.
Dunkin' Spiked Iced Teas Review
The Dunkin' Spiked Ice Teas were more my, well, cup of tea. A hard tea is nothing new, though, so it makes sense that these flavors were easier to digest. The Dunkin' Spiked Slightly Sweet Iced Tea, which is made with black tea and lemon flavor, was my favorite and the most refreshing out of the bunch. I would definitely bring a pack to an outdoor picnic with my friends.
The Dunkin' Spiked Half & Half Iced Tea is great if you're an Arnold Palmer fan or looking for a lemony taste. It's more sour than the Slightly Sweet Iced Tea, so it packs a punch while still being refreshing. The next two flavors I reviewed are inspired by Iced Tea Refreshers at Dunkin' and are perfect for summer sippin' as you lounge by the pool on a hot day. I enjoyed the Dunkin' Spiked Strawberry Dragonfruit Iced Tea a little more than the Dunkin' Spiked Mango Pineapple Iced Tea Refresher because the strawberry flavor was nice and not too artificial tasting. It would work well blended with some ice for a homemade strawberry daiquiri. I think the mango pineapple flavor could also be used to make a tropical cocktail like a boozy Dole Whip-inspired drink. Of course, these spiked green tea drinks are fine on their own if you're planning a backyard hang with your besties or a summertime happy hour on your roof.
The Dunkin' Spiked Iced Teas are available now at grocery stores in Connecticut, Delaware, Florida, Maine, Massachusetts, New Hampshire, New Jersey, New York, Pennsylvania, Rhode Island, Texas, and Vermont. Then, starting in early September, the Iced Coffees will be hitting the shelves as well so you can bring them to all your tailgating hangs.